Cycling Windsor to Ourimbah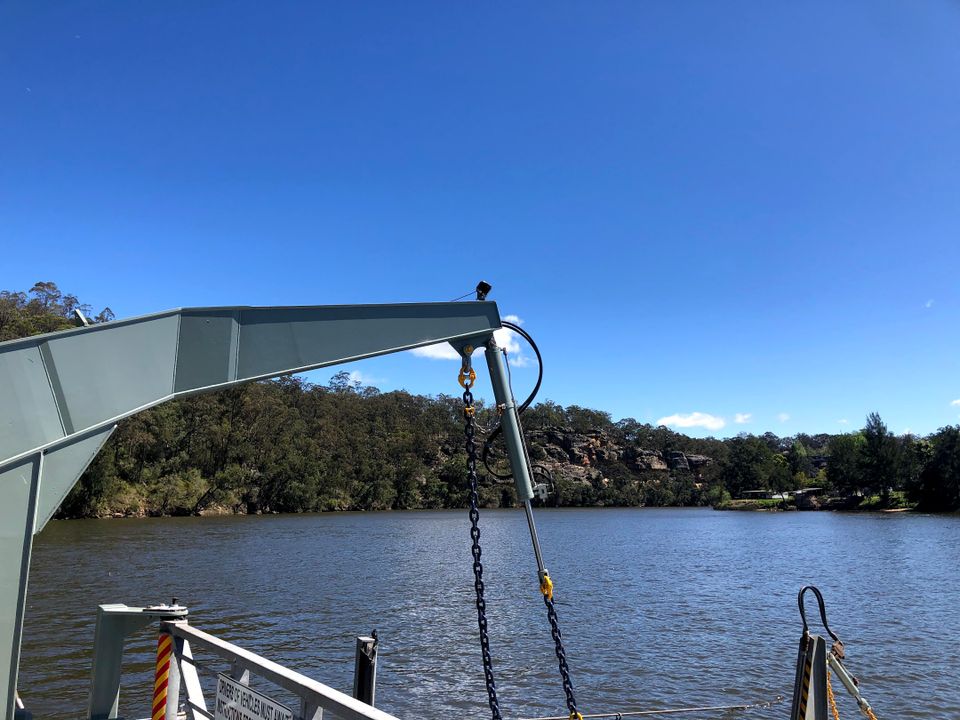 We recently cycled a 128km two-day trip from Windsor Station, in Sydney's far northwest, to Ourimbah Station, in the Central Coast, mostly following the banks of the Hawkesbury River.
Hopefully these trip notes are useful to anyone considering the ride.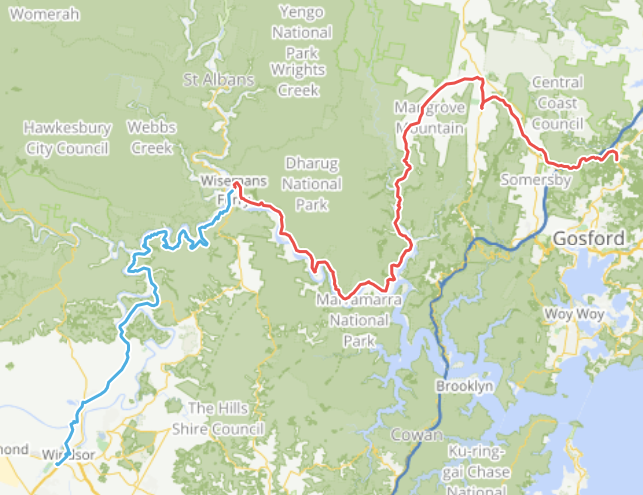 Background
We found this ride on Omafiet's website – their GPS Track. Omafiets have a wide selection of multiday trips, often starting and finishing at train stations.
The ride starts and ends at train stations, and is very flat on Day 1, with one big climb on Day 2.
Day 1: Windsor to Wisemans Ferry
Getting to Windsor
We took the 9:06am direct T1 train Central to Windsor (75min duration).
The train's platform-level seats fold up, and we wedged our bikes in there, chaining them to the bar behind the seats.
At Windsor, the train station's toilets were locked, but we used the public toilet two blocks away at George/Tebbut St corner.
Windsor to Wilberforce
This section is dead-flat.
Go through Windsor town, turn left onto the new bridge across the Hawkesbury. This road, Wilberforce Road, can be busy and fast. There's a shoulder most of the way, but it was so busy on the day that we decided instead to take the quieter Freemans Reach Road, then 3km of gravel along Argyle Reach Road.
Turf-growing and market gardening seem to be the main industries.
We had no problems with the gravel, even with a thin-tire road bike. Watch out for the spray irrigators pointing across the road!
Wilberforce has a grocery/baker/fruit shop, and a strip-mall shopping centre.
Wilberforce to Sackville North
Still pretty flat, this follows King Road, becoming Sackville Road. This stretch was much quieter than Wilberforce Road, and had a decent shoulder most of the way.
Pass a surprisingly large Mitre 10 in the middle of nowhere, you may be interested in a 3km roundtrip detour to Australia's oldest church: Ebenezer Church (1809), which has a self-guided walking tour of the grounds.
Continue past the large Tractor 828 Cafe, popular with motorists waiting for the ferry. Sackville Ferry operates 24h, 7days a week, and has a gorgeous view over the river cliffs.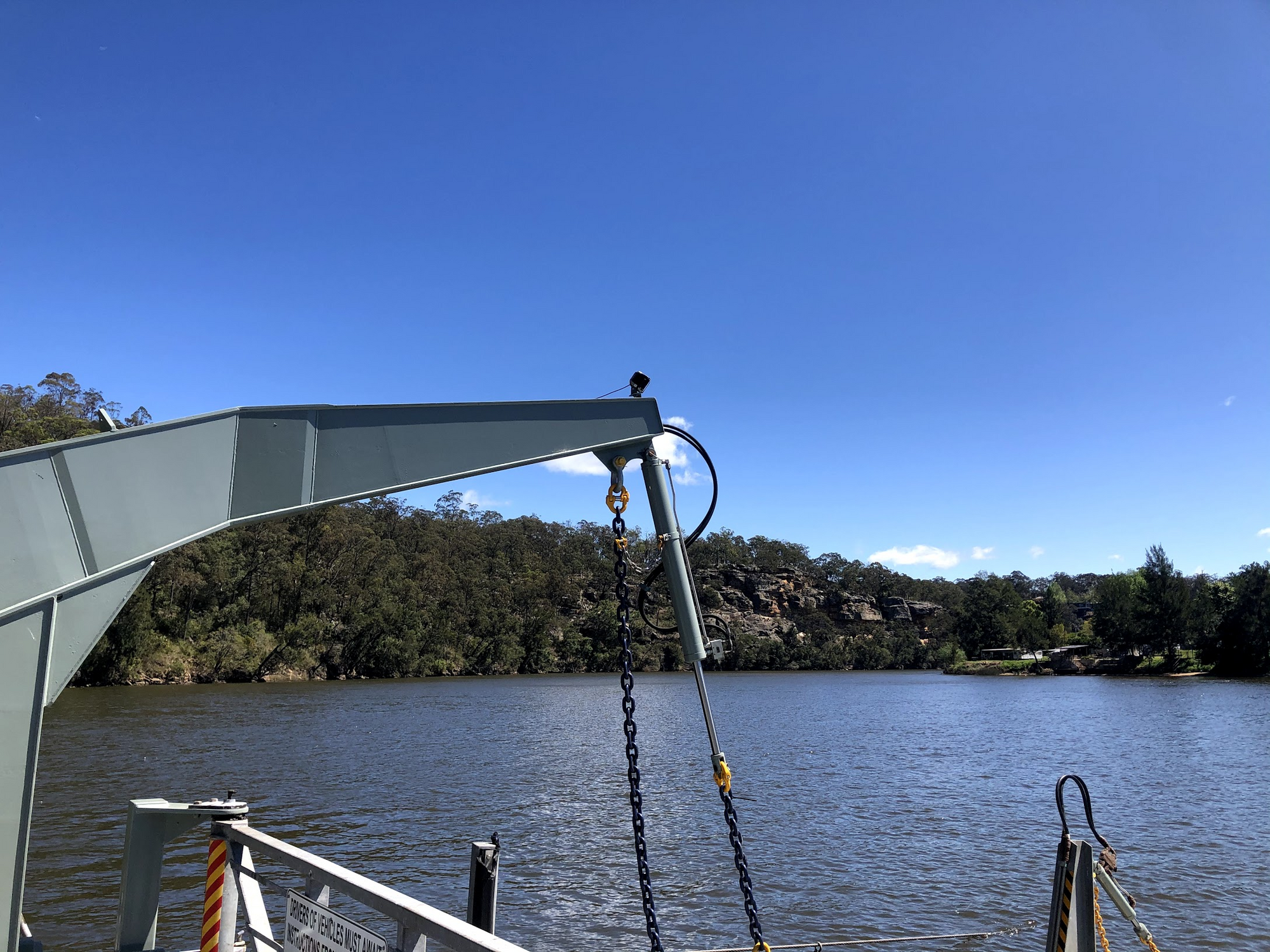 After the ferry is the first "real" uphill section, climbing to 100m elevation at Sackville North RFS. I really enjoyed this section: the road is not very wide, but the ferry is a natural traffic bottleneck, so we weren't being passed all the time (only once every 15 minutes or so, when the ferry docked, would a batch of cars overtake us).
The road follows the ridge of a 'peninsula' sticking into the river, so there are often gorgeous views of the river through the foliage on both sides.
Sackville North to Lower Portland
At Sackville North RFS, turn left onto River Road. The turnoff can be easy to miss: we met a group of cyclists, waiting for the half of their group to return, after they had accidentally continued 10km down the road to Maroota!
River Road is lovely riding, following the banks of the river, with regular short climbs over sandstone fingers, descending into floodplain flats mostly dotted with water-ski campgrounds (I suppose it's too flood-prone to build permanently here?)
We enjoyed a hearty vegetarian pizza + salad lunch at Paradise Cafe, Lower Portland. This cafe is the only lunch option around the halfway point for Day 1. More people seemed to arrive to Paradise by boat than by road. We enjoyed watching the boaters arrive for lunch and tie up, including some huge racing speedboats. Reservations are sometimes required, though there was room for us without one.
Lower Portland to Wisemans Ferry
Gorgeous, quiet, riverside riding. Flat floodplain sections, punctuated with short climbs and great views at the riverbends.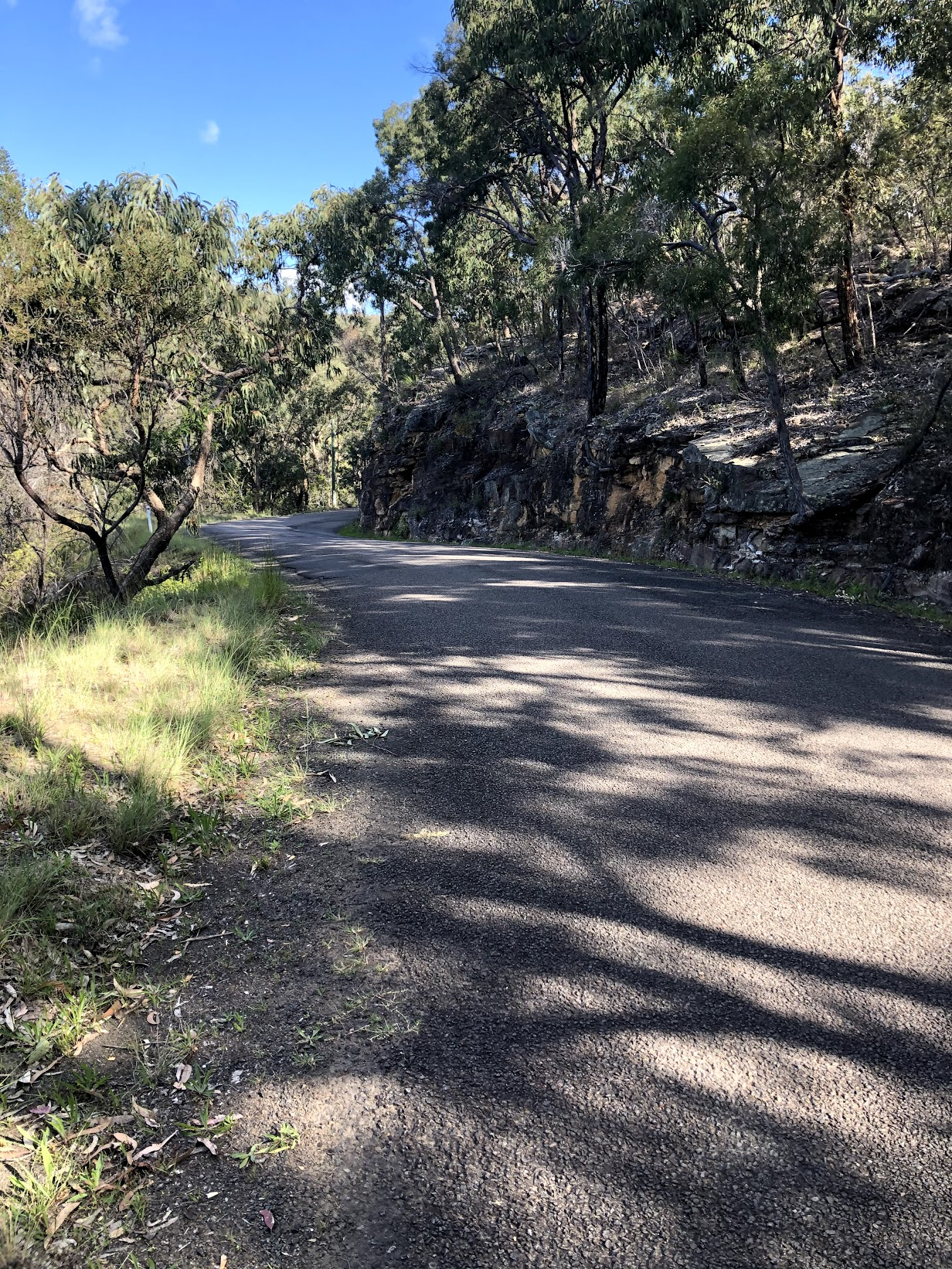 Campervan parks dot the area, with some vans looking like they haven't moved in decades (Do they live there permanently?). Occasional grand mansions look over the river. But the stars of this ride are the incredible towering, cantilevered sandstone cliff formations. Regular signs exhort you to please "Do Not Stop" due to "Falling Rocks".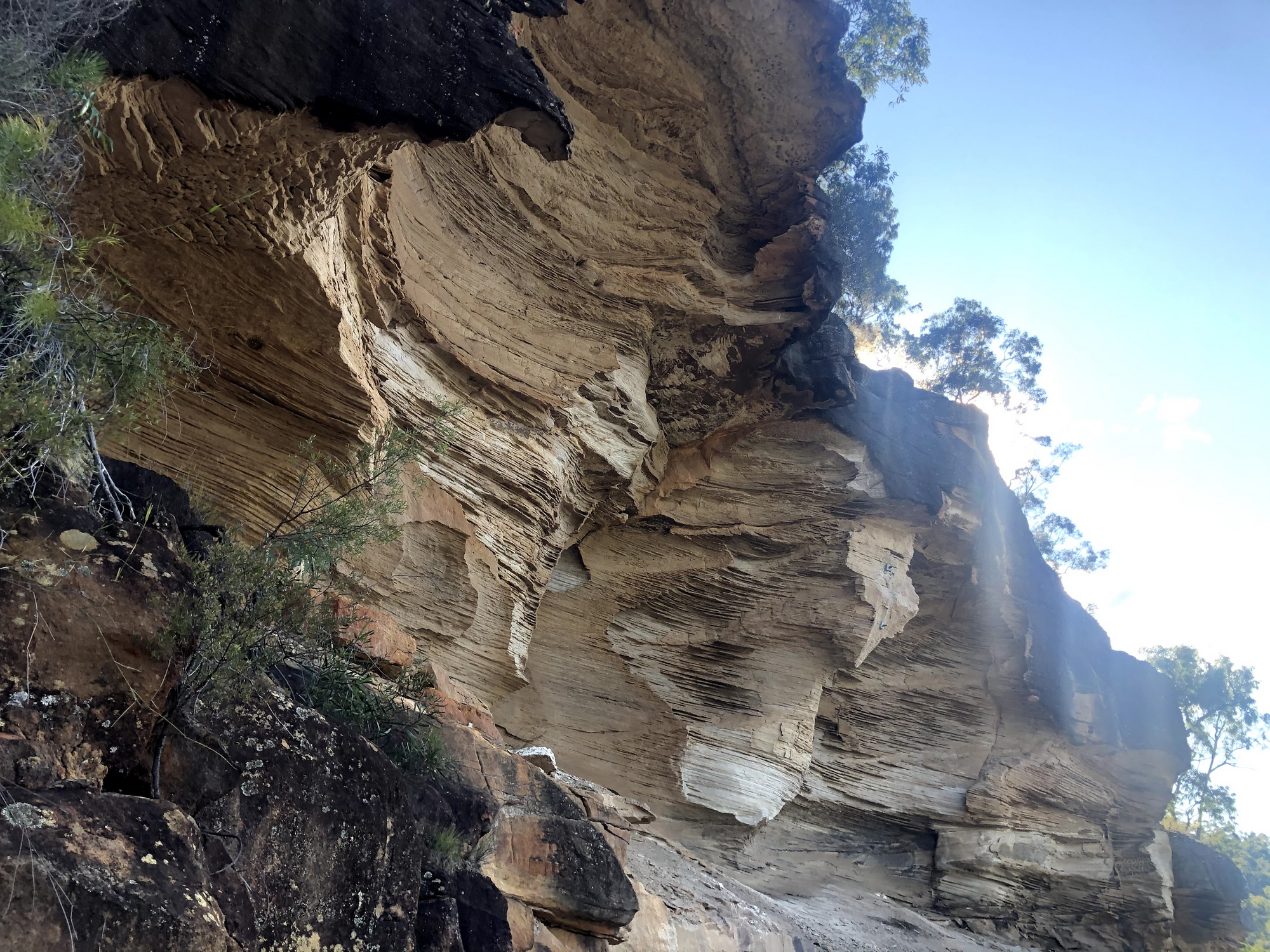 One last big climb, and you're in Wisemans Ferry village.
Wisemans Ferry – Accommodation
Constructed in 1827, this is one of the oldest buildings in NSW, with marvellous rough-hewn sandstone walls and wooden rafters.
A room is $90 weekdays, $140 weekends. It's right in the middle of town, walkable to the bowling club if you'd like to have dinner there. The restaurant is mainly meat-focussed, but the vegetarian Garden Salad is surprisingly hearty.
The historic rooms are above the pub. Some rooms are detached. We stayed above the pub. The shared bathrooms are very clean, with decent water pressure in the showers.
The Inn has mixed reviews – mostly due to complaints about loud music. We bet that live music would be cancelled with COVID-19, but the pub's normal sound system still penetrated the bedrooms, until closing time at midnight. We expected it to stay quiet till opening time at 9am, but we were frustratingly woken by someone turning the music back on at 6am. Seemed pretty unnecessary.
I'd suggest checking out the historic Inn by grabbing a beer or dinner there, but sleeping soundly elsewhere.
Mostly good reviews. In the middle of Wisemans Ferry town, so walkable to dinner options. Their restaurant is closed "except for functions". $160. Would have been our preference, but was booked-out on the weekend we went.
Is across the river (take Webbs Creek Ferry, 24h/7d), and 3km down the road. Offers a range of buildings and campsites, and has an onsite Bistro with decent-looking vegetarian options.
Campers might want to stay here? Must bring your own drinking water. There's a lovely walk through Dharug National Park starting here – just be careful of leeches if it's raining (ask me how I know this).
Wisemans Ferry – Food
As mentioned above, Wisemans Inn Hotel and Del Rio Resort operate restaurants.
Wisemans Ferry Bowling Club has a bistro. We looked inside, but the building stank of cigarette smoke, so we left.
Convict Road Kiosk next to the Ferry does morning cafe food.
Wisemans Ferry Grocer sells important cycling staples, like bananas and muffins, and has a small seating area for eating their cakes and pies.
Wisemans Ferry – History and Prison Labour
While you're marvelling at the beautiful old building, reflect on how the Inn, along with the rest of the Great North Road, was built by convict slave-labour work gangs. You might expect that we've moved past this, but Australia still widely uses prison labour today, paid well-below minimum wage, and it's extremely profitable:
In NSW, the Corrective Service Industries (CSI) arm of the Justice department coordinates prisoner employment. The organisation claims 84.9 per cent of inmates who can work, do. Last year, CSI had revenues of $113 million and made a $45.6 million profit.
In NSW, prisoners are paid between $24.60 and $70.55 for a 30 hour work week, said CSI. The Australian minimum wage is $17.70 per hour.
Even brand-conscious businesses like Qantas are unashamed about using Victorian prison labour on slave wages to sort their headsets:
Increasing the brand/reputational risk to businesses using underpaid prison labour might help stop the practice.
Day 2: Wisemans Ferry to Ourimbah
Day 2 is much tougher than Day 1!
Wisemans Ferry to Spencer
Cross the Ferry, then enjoy the mostly-flat cycling along the Hawkesbury River. Motorcyclists seem much more common here than cars – about every 10 minutes you'll be passed by a large group of motorcyclists as the ferry discharges. But most of the time, it's just quiet riding. In the morning, this road is mostly shaded by the steep cliffs to the north – bring layers if you get cold.
You'll pass Wombat Cafe at one of the campgrounds, spruiking their terrifyingly-large 1.7kg burgers.
Eventually you'll arrive at Spencer, which feels like a tiny New Zealand beach town. Spencer has a Village Store and an attached Thai Restaurant. We stopped at the playground opposite and were grateful for their long-drop, but clean, public toilet.
Spencer to Peats Ridge
The road peels north, following the Mangrove Creek inlet. Mostly flat here, but as soon as the road leave Mangrove Creek the tough uphill begins. The road is two-lane, sealed, and mostly quiet, which we were grateful for as we proceeded up in first gear. The climb is unrelenting to an unfit person like myself, and even once you reach 300m elevation gain, at the top it's more rolling hills and more climbs.
Ensure you're well-fueled, as there's no food till you reach the top of Central Mangrove. The block of shops at Mangrove Mountain had for-lease signs up when we passed by.
At Central Mangrove, we turned south on Peats Ride Road, which, refreshingly, is an actual Ridge Road and so mostly-flat. There's a cluster of restaurants about 2km south: Harvest Kitchen, Corrugated Cafe are relatively casual, while Sitting Duck seems the fancier option on a golf course. We ate at Corrugated Cafe, which did an excellent vegetarian burger and cheese toastie. After the climb, it'll taste like the best burger of your life.
Peats Ridge to Ourimbah
We headed up back up Peats Ridge Road, which is a new, highway-style road with onramps. We hopped off the first offramp to get back on the older, hillier, but quieter Wisemans Ferry Road, following it through rolling hills until Dog Trap Road, which follows the ridge line, trending slightly downhill. Look left for some fantastic views over Tuggerah Lake.
Dog Trap Road crosses over the Pacific Motorway, then there's a very steep, tactical descent, dropping all the leftover elevation you have snaking through the bush. Keep left, this road is narrow and there are oncoming cars.
After an exhilarating descent, Dog Trap Road spits you out in Ourimbah suburbia.
Cross the train tracks at the road-bridge if you want to avoid taking your bike up and down the stairs.
Back to Sydney
Trains run about twice an hour from Ourimbah to Central, even late into the night, so no worries if you're a little later than expected.