Hunter Valley Cycle Tour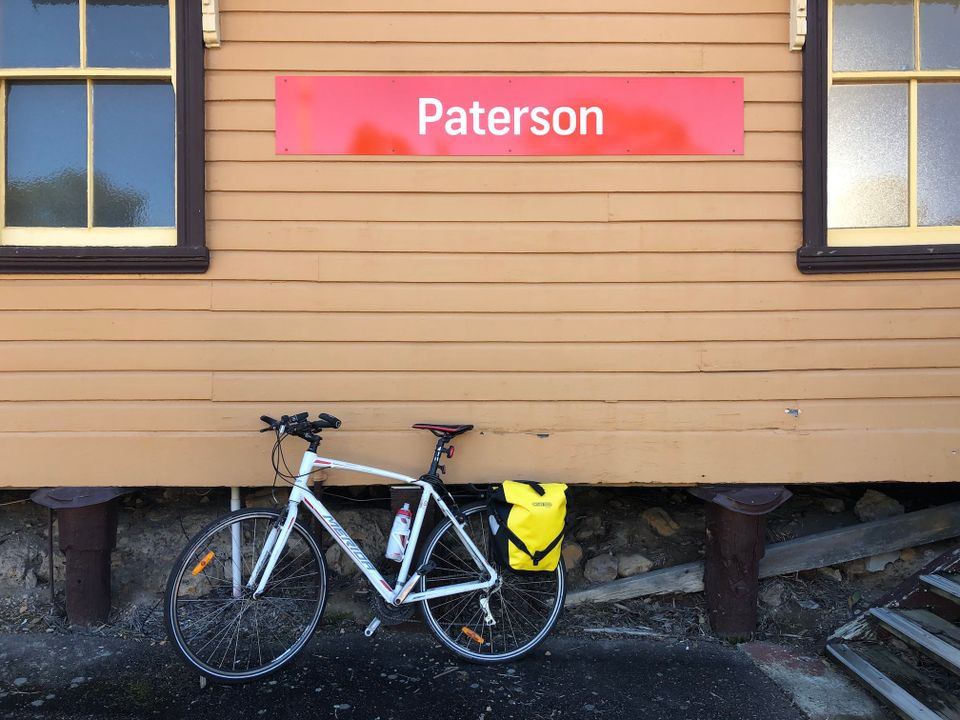 My partner & I just finished an 8-day, 250 km bicycle tour in the Hunter Valley, north of Sydney.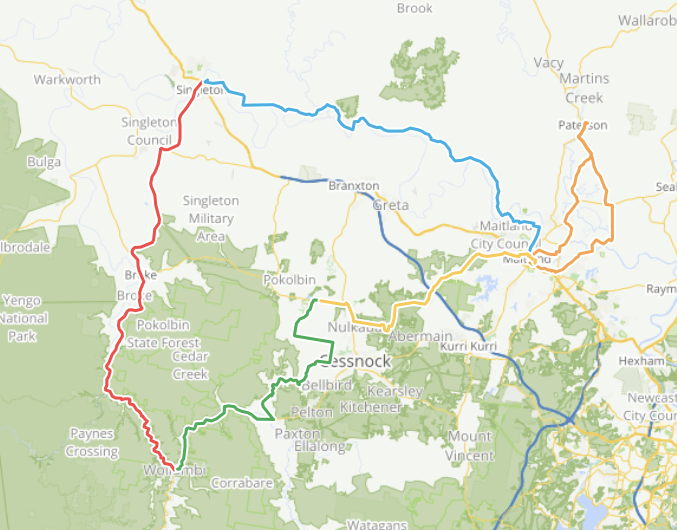 We tried to research Hunter Valley cycling before going, but couldn't find much information online. We're hoping this can be a useful guide for people considering this trip.
Trip Goals
We wanted specific things:
A week off work, maybe with cycling and nature sightseeing.
Somewhere in NSW/ACT. Under COVID-19 travel restrictions, there are no limitations on travelling within NSW.
Accommodation: we didn't want to carry a tent this time.
Quiet roads: we're not that confident with many cars on the road.
About 50 km cycling/day: we are not very fit, fast, nor early-rising. Some people do 100 km/day on tours. We aren't those people.
No driving: Accessible via public transport, without dismantling the bike to pack into a box. This rules out NSW TrainLink, limiting us to Opal trains. We don't want to start and end our holiday with stressful Sydney driving.
If this sounds like what you want, perhaps this guide is for you? More-athletic riders should consider instead OzWanderer's Hunter Hundreds 100 km routes starting and ending at train stations.
I hear the Hunter Valley gets quite hot in summer, so this trip is probably best cycled in autumn/winter/spring.
Day 1: Sydney to Maitland
Maitland seemed like a good place to base ourselves: the most substantial town on the Hunter line, with the most trains, restaurants, cafes, and accommodation.
We stayed two nights to get a feel for the area before continuing.
Bikes on the Train
Outside peak times, it's pretty easy to take bikes on Opal trains. Avoid blocking the entrance.
The Central Coast & Newcastle Line runs from Sydney Central to Newcastle Interchange roughly hourly, taking about 2.5 hours. Chain bikes to the vertical bar near the carriage entrance, or to the horizontal bar above the entrance seats.
The Hunter Line runs from Newcastle Interchange up to Maitland roughly hourly, taking about half an hour. Chain bikes to the vertical bar at the front entrance.
Getting to Maitland is easy, but going further requires organising your day around the train timetable. The Hunter Line forks after Maitland, continuing to either Dungog or Scone. Frequency cuts dramatically, with 3 trains weekdays departing Scone, and 5 trains weekdays departing Dungog.
From Central, we took the Central Coast & Newcastle line to Hamilton Station in Newcastle, where we had a 3-minute connection with the Hunter Line trains to Maitland. We almost missed this extremely tight connection, carrying two heavy bikes with pannier bags up the stairs.
Tip: don't carry your heavy bikes up and down the stairs. Instead, exit the station down the ramp to the road, cross the level crossing, then ascend the ramp to the other platform.
Maitland's Vibe
Boxed in by the Hunter River to the north, and clustering around the train line to the south, Maitland is long and thin.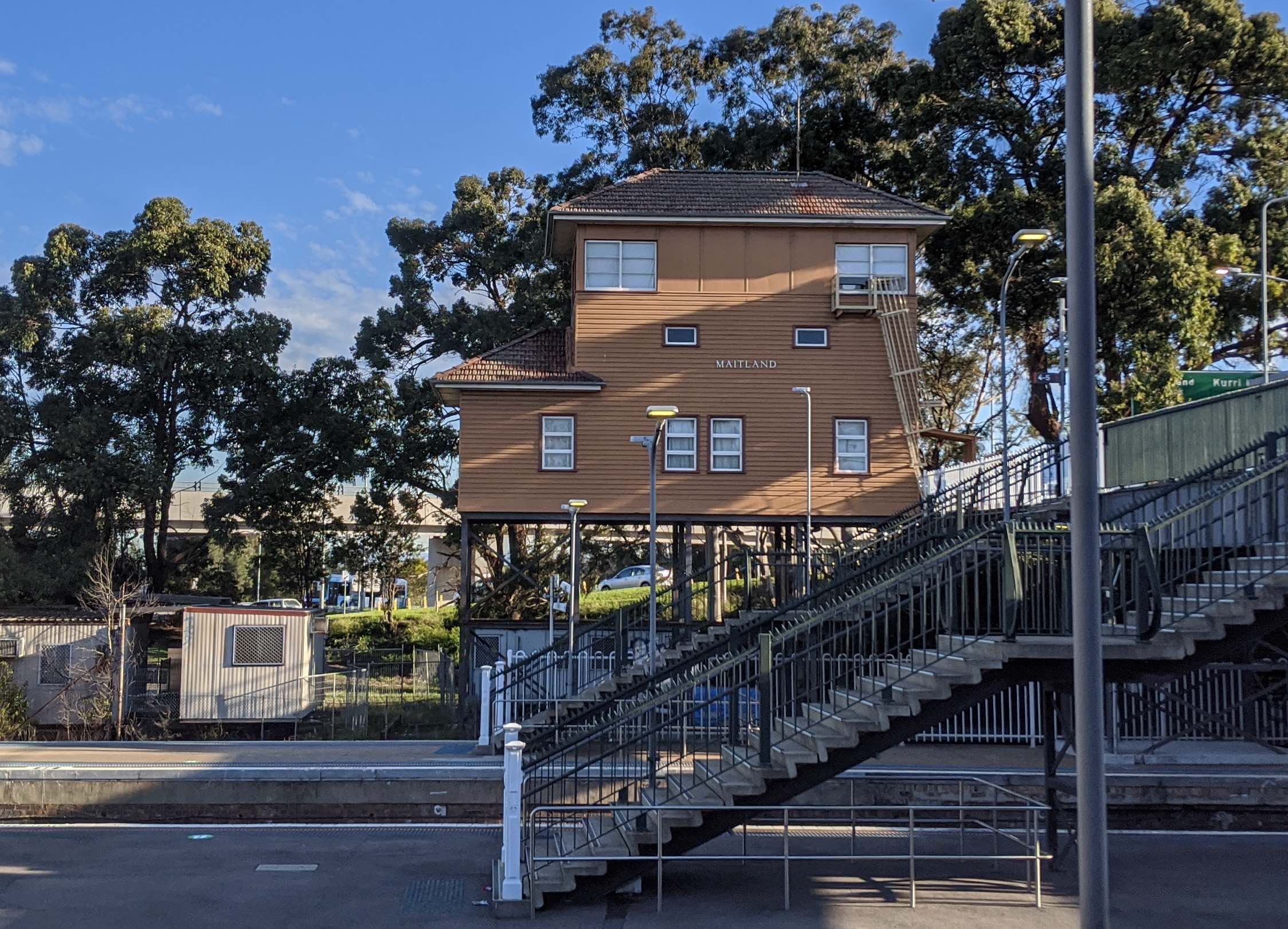 We see a lot of gorgeous buildings, a newly-pedestrianised High Street, but a lot of "For Lease" notices. I imagine the High St refurbishment will help, but is it too-little too-late? I didn't see any apartments or medium-density, even around the train station, so is it really walkable if hardly anyone lives within walking distance? At any rate, it was lovely for us.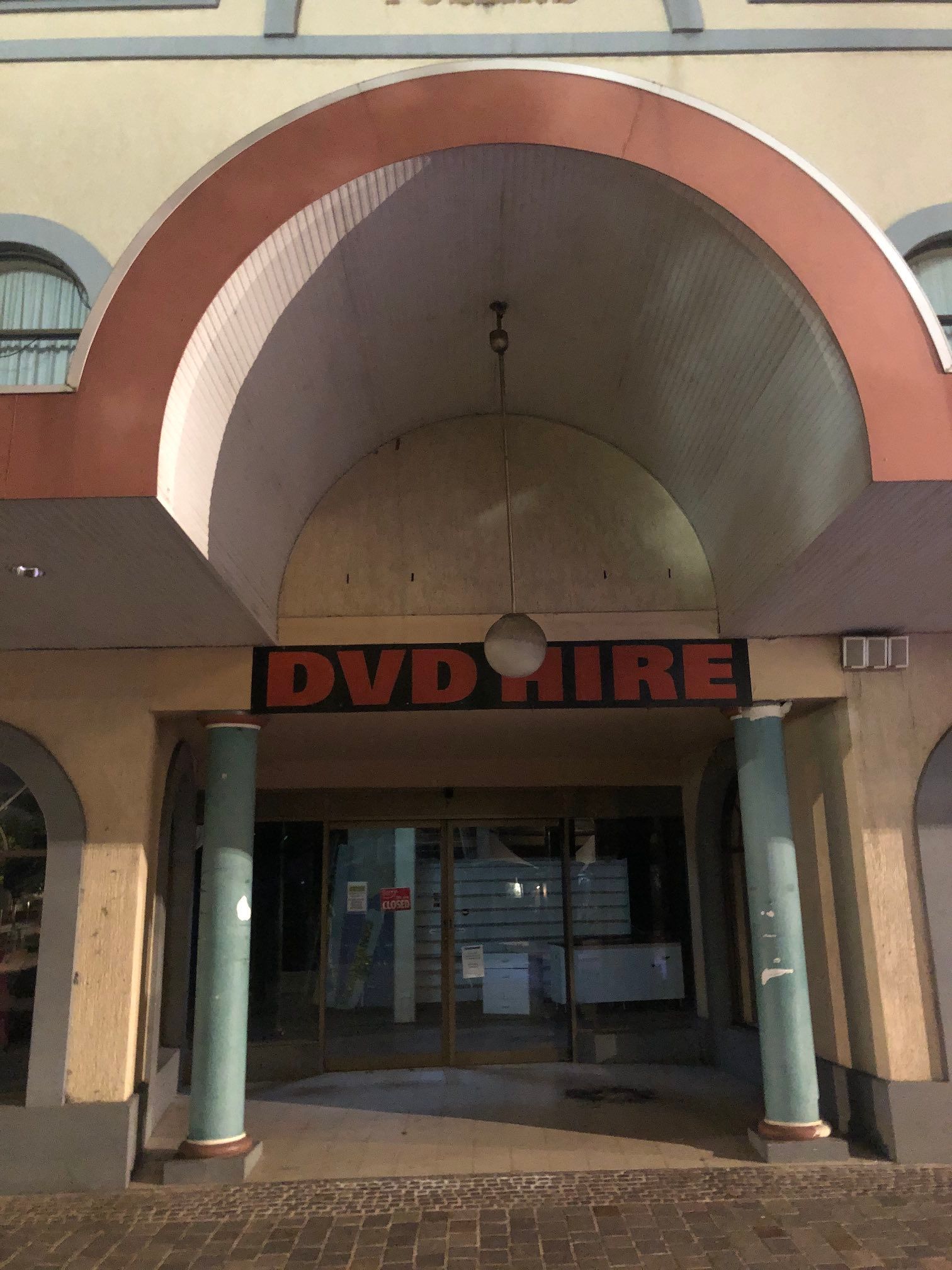 Historical displays tell how Maitland was the furthest inland navigable part of the Hunter River: I imagine a lot of money was made warehousing goods coming off the river for distribution through the Upper Hunter region. One display claims Maitland was the second largest city in Australia behind Sydney, until the Victorian gold rush. It's pretty wild to think of Maitland being larger than Newcastle or Melbourne.
The displays tell the usual early-colonisation story of a timber industry, land clearance for farming, and then the river silting up (the displays, of course, don't connect this to the deforestation). The silting would have removed a lot of Maitland's natural advantage as a warehousing depot: I wonder if this is what froze the town's High Street in the late 1800s, or if it's the more common story of suburban malls and the automobile suburbs draining the life out of historical Old Town centres?
The  Old Maitland Gaol sounds pretty innovative. They have Jail Tours, Jail Laser Tag, even Jail Escape Rooms – you can pay to get locked in jail! Shame we didn't get to go. Tours of historical incarceration sites depress me a bit, until our society learns that locking people up in horrible places is expensive and counter-productive.
Maitland Food
Maitland has many hotels and restaurants and cafes, but in my opinion the town underuses their Hunter River waterfront view: only The OrangeTree Cafe and COQUUN Restaurant have river views.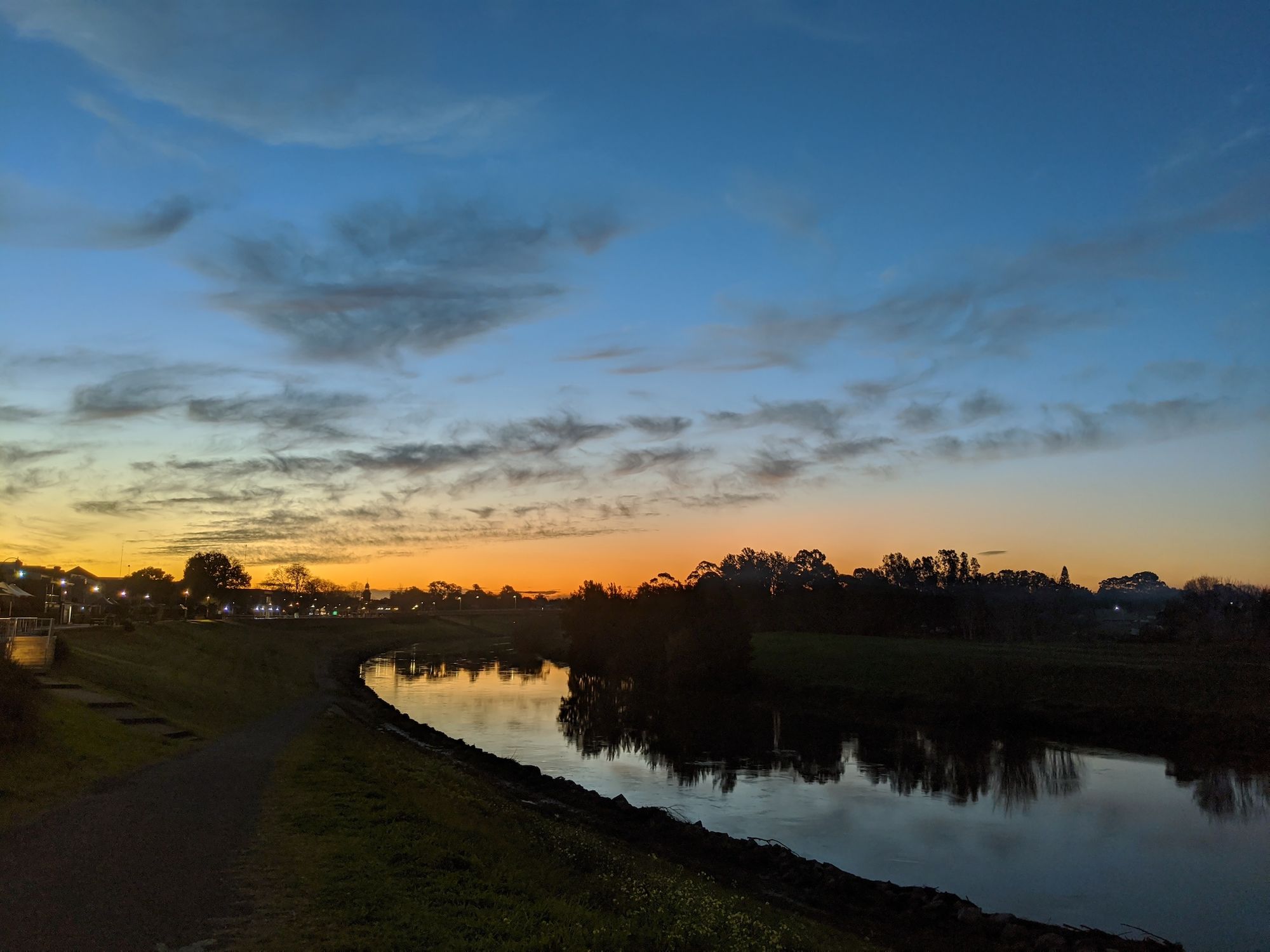 We had dinner at COQUUN. They have an ultramodern wooden building, with a lovely sunset view over the Hunter River (though it did get cold, and the heater was broken, so bring layers!).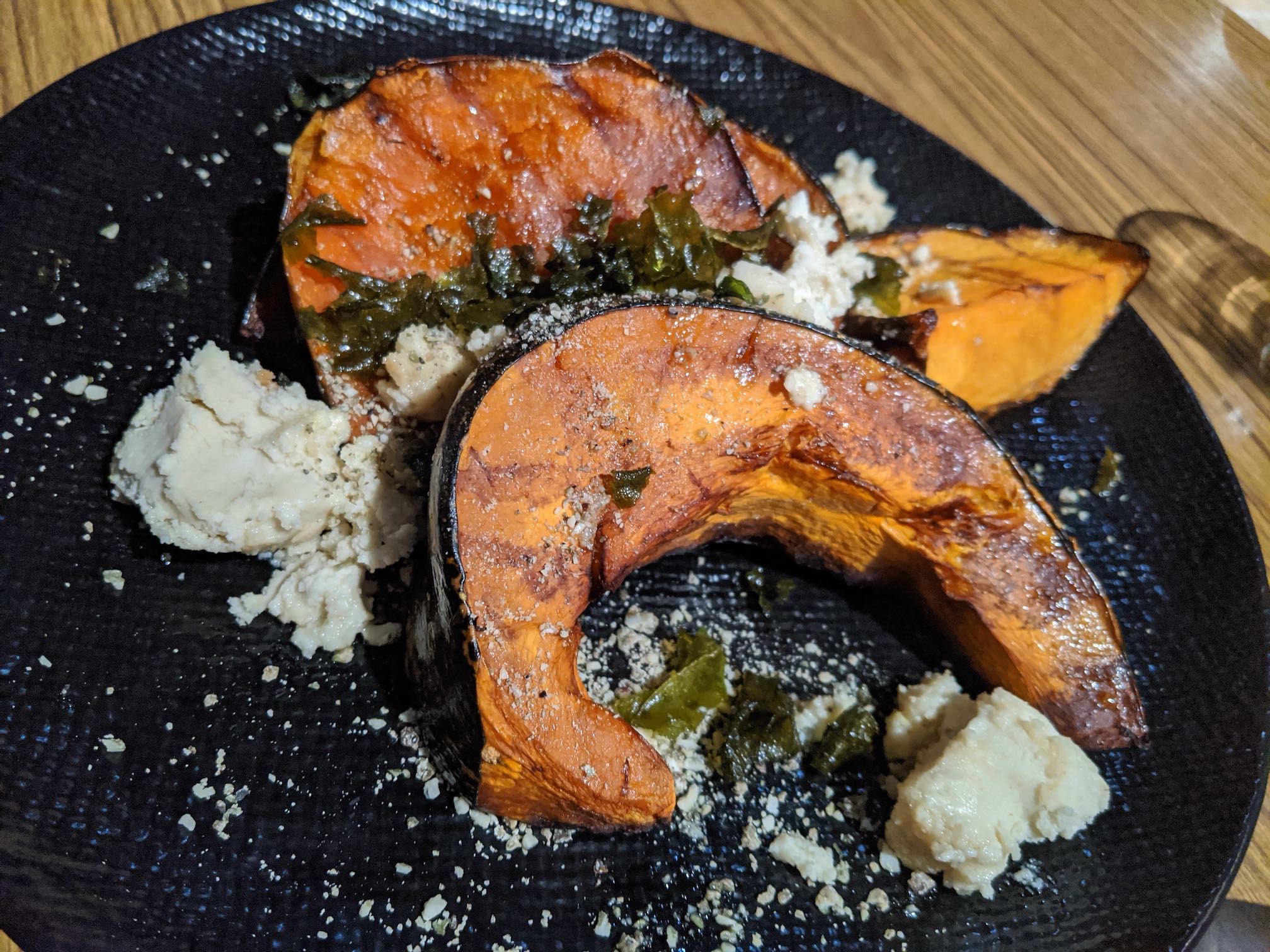 The pumpkin side with Almond Feta was good, but their vegetarian option, a huge, slightly undercooked eggplant with beans, was a bit underwhelming. It could have benefited from sauce, and didn't feel worth the $36 charged.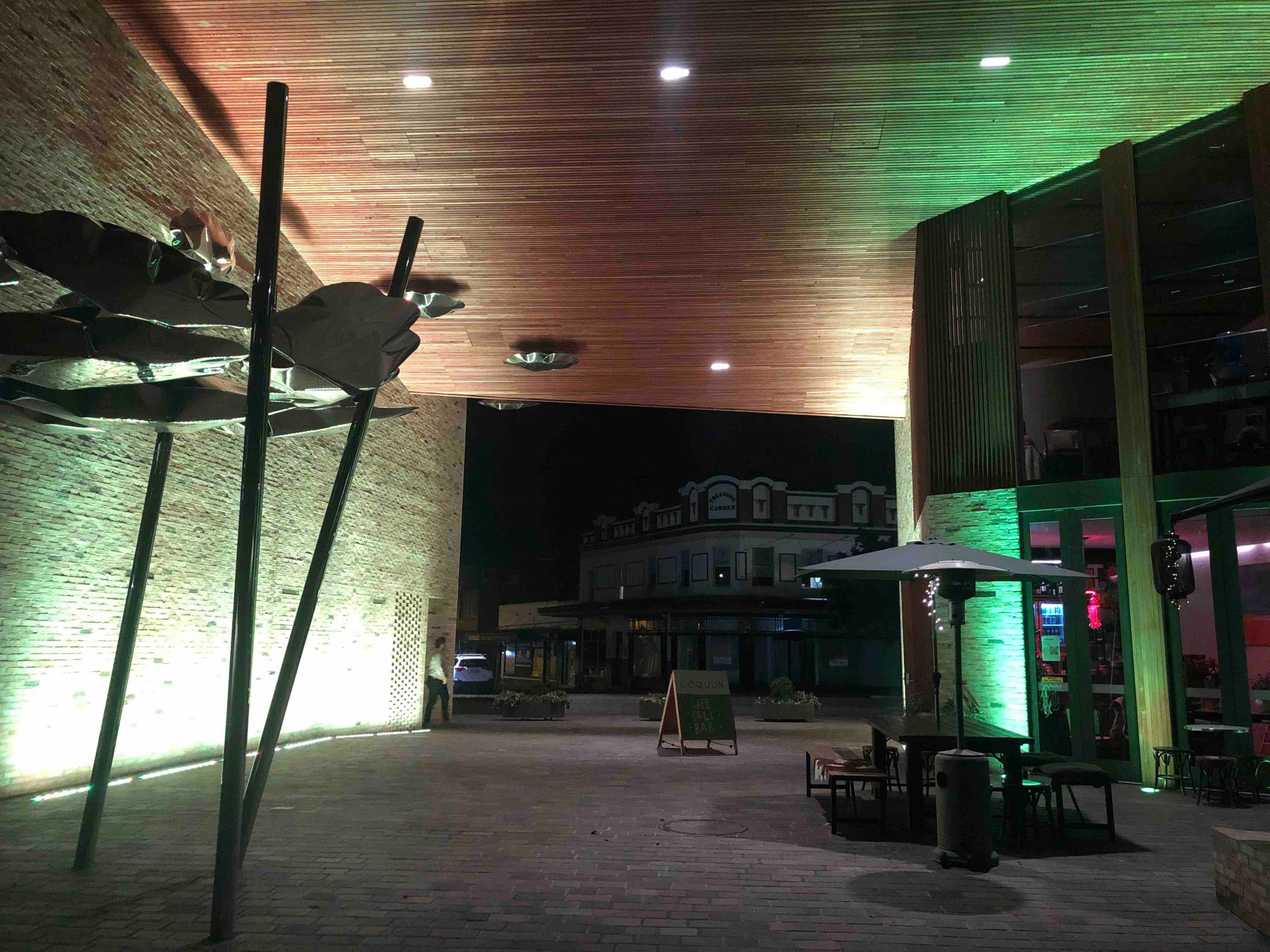 Maitland Accommodation
We stayed at the Quest Maitland Serviced Apartments ($179/night), nicely walkable to the town's historic High Street. All the other walkable options were above old pubs. Quest had plenty of room for bikes inside the apartment.
Day 2: Maitland, Morpeth, Paterson Loop
This introductory ride wasn't too long (50 km), with hardly any hills. We saw many variations of this ride online: skipping Paterson, continuing further to Vacy, and starting in Morpeth, so it looks very popular.
Road Conditions
All sealed roads, mostly on the flat Hunter floodplain. There were a few minor hills towards Paterson.
There's a decent, but unprotected, cycle lane painted on the road between Maitland East and Morpeth.
The bridge at Morpeth is old wood, be careful to not get your tyre stuck in the plank gaps.
There's medium traffic crossing at the Hunter River bridge at Morpeth. Traffic rapidly thinned out after Hinton.
Clarence Town Road was busier, but a very short downhill. Some little Jack Russells gave our bikes a good race.
Quite a few farm dogs barking along Butterwick Rd.
Belmore Road was busy, with many parked cars. We got off and walked across Belmore Bridge's narrow footpath.
Drivers were generally courteous, giving us a lot of space passing.
Vibes
East Maitland has lovely Victorian buildings along Melbourne St/Morpeth Rd. The suburban sprawl extends to Morpeth.
Morpeth has lovely heritage sandstone buildings, and a lot of tourist shops. I'd like to stay longer. Morpeth was the Hunter River's head of navigation for heavy steamships, and the town looks like it was once rich from trade.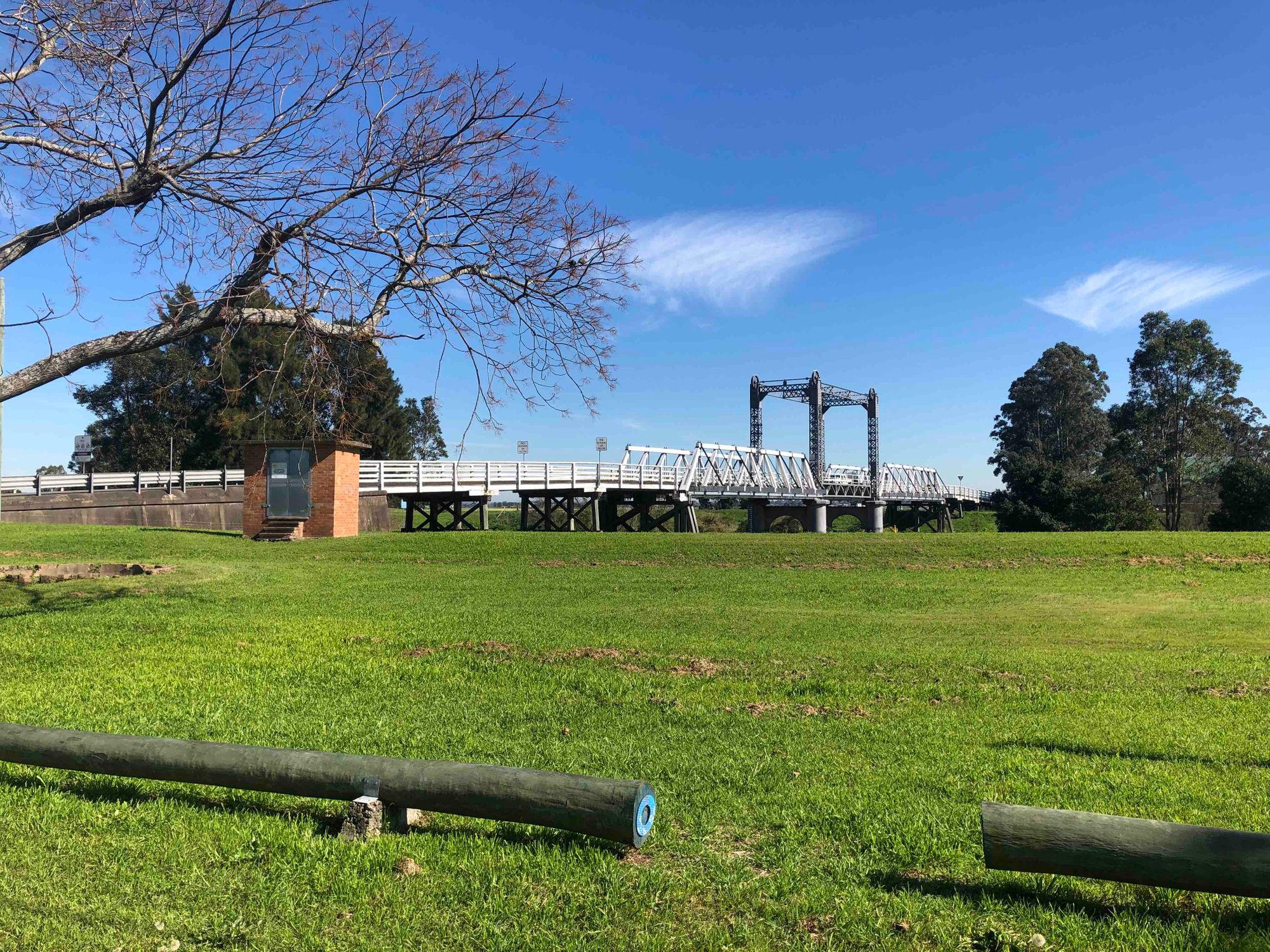 Hinton has a gorgeous hundred-year old raisable bridge over the Paterson River, and a Victorian pub.
Wallalong has a well-used skatepark, but is otherwise a sleepy town without any shops, except for some front-yard plant sale honesty-boxes.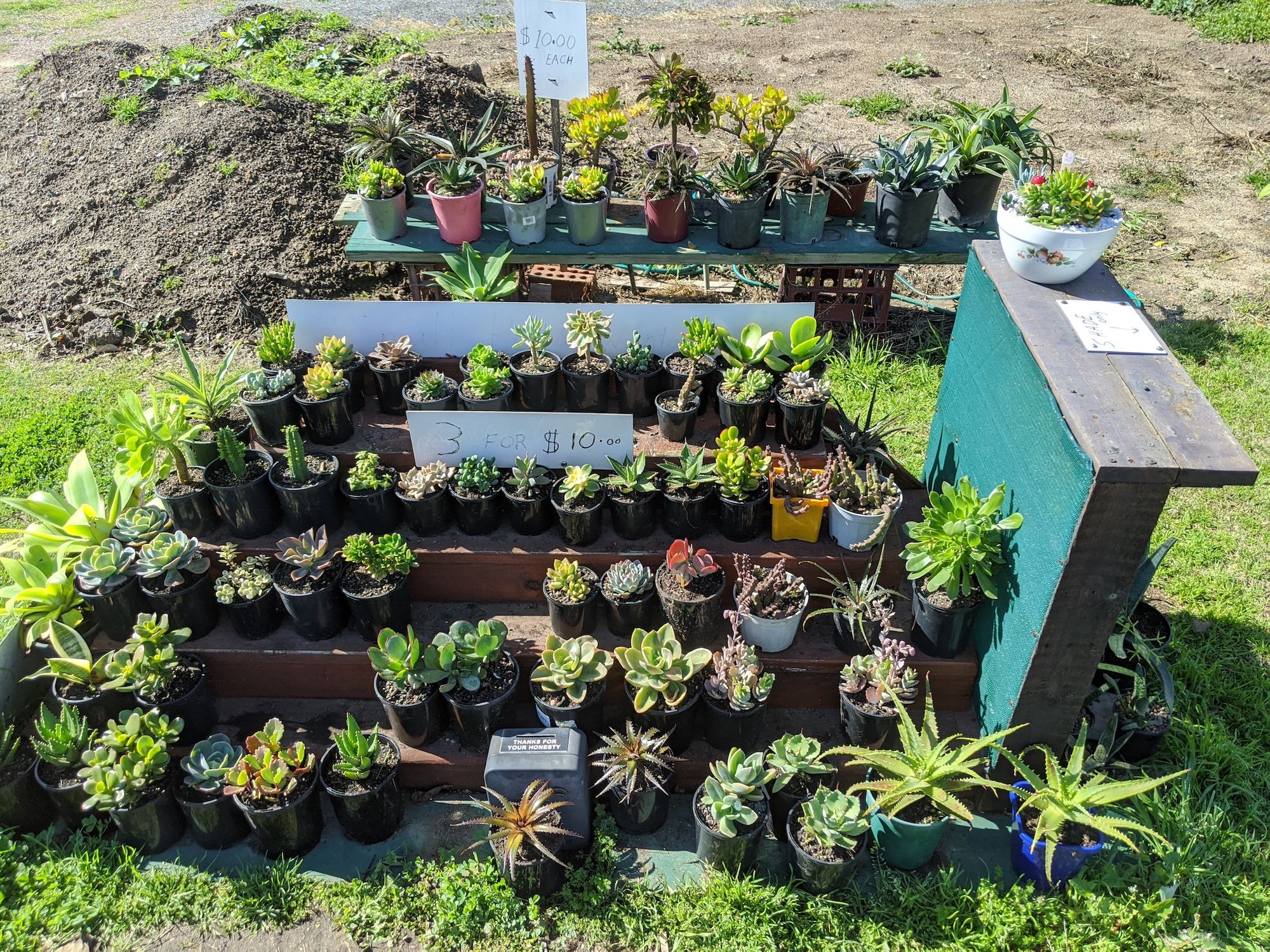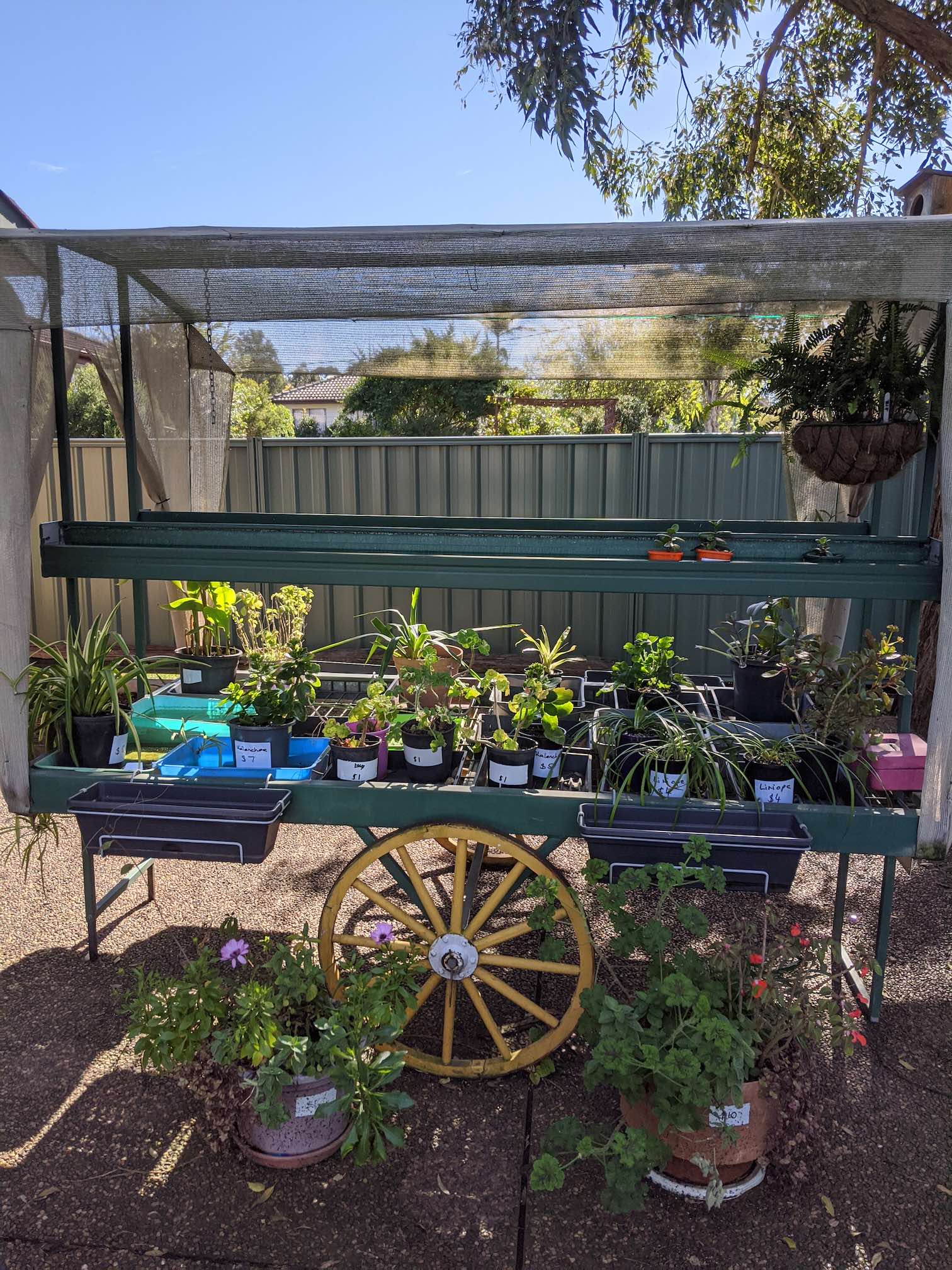 Farms all the way to Paterson, which is another tiny town with stately buildings.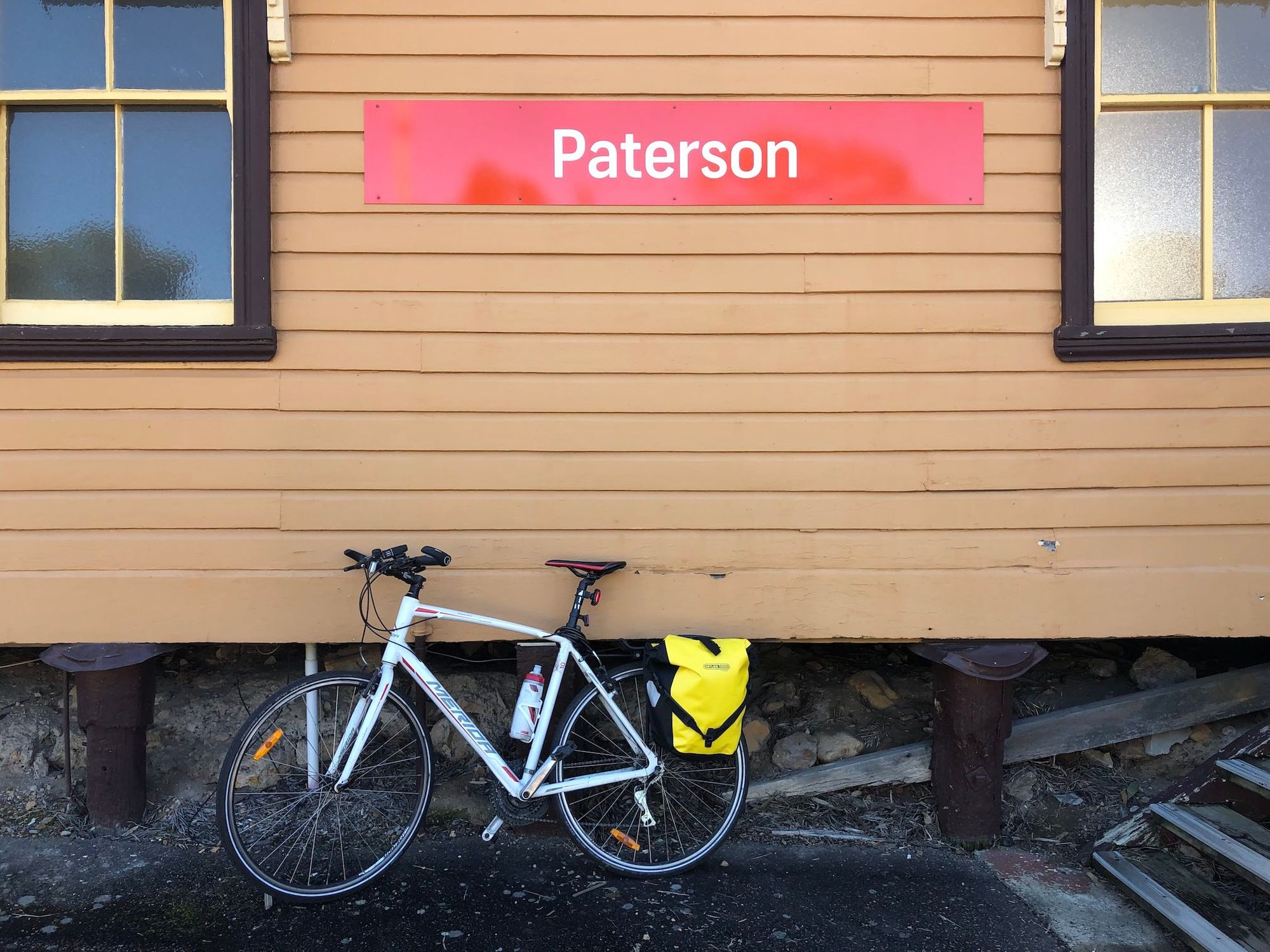 Next to the train station (with Opal reader!), there's an old rail society with heritage trains, unfortunately closed when we visited. The town is proud of its early timber and farming history, with interpretive panels around.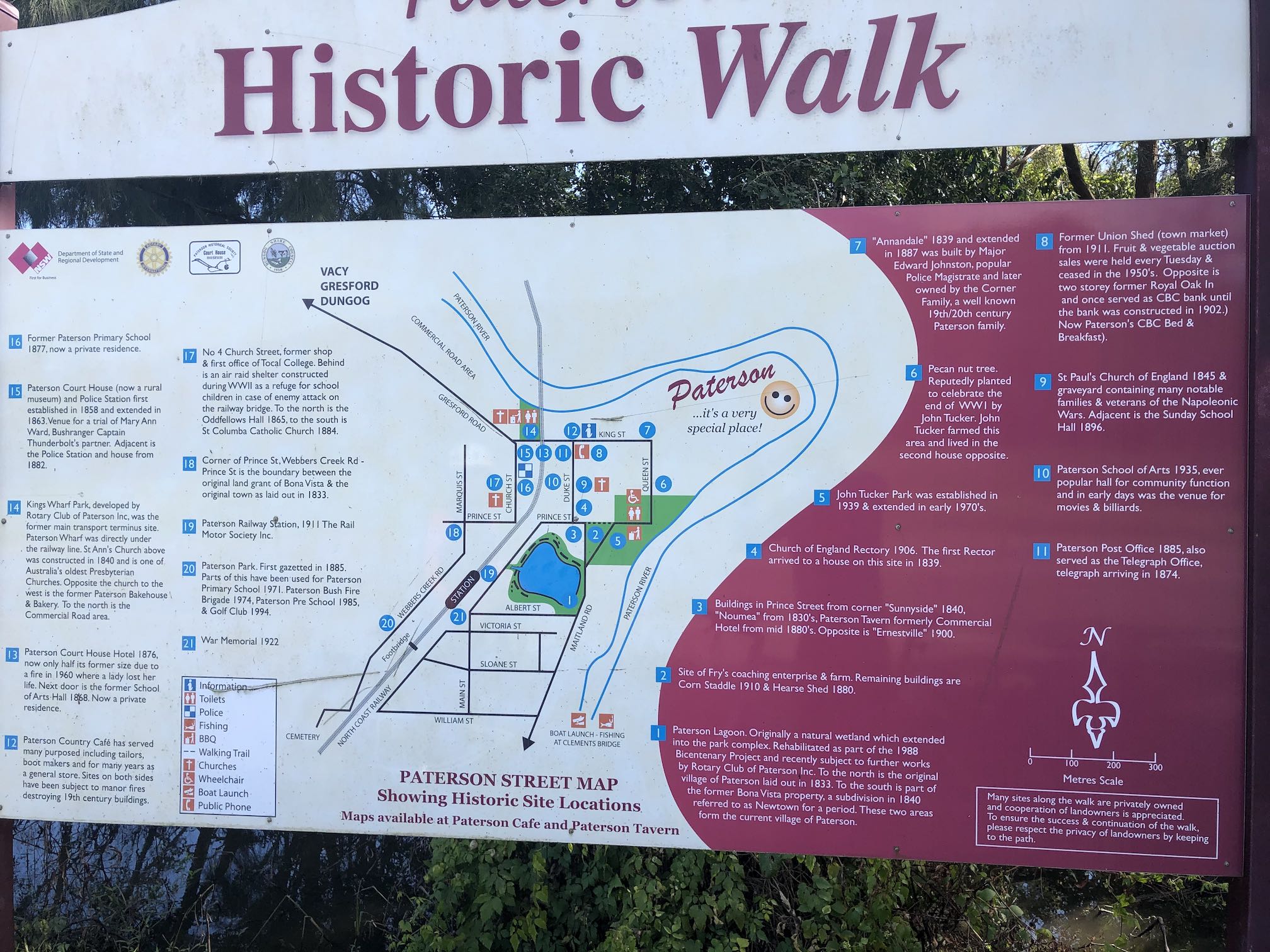 Woodville has a beautiful sandstone church at the intersection, and not much else.
Then you're back into huge oversize suburbia housing blocks of Largs, before reverting to turf farming and gorgeous Victorian buildings at Lorn.
Food
Morpeth has a huge range of cafes. No food between Morpeth and Paterson
We ate lunch at the packed Paterson Country Cafe, full of Sunday daytrippers and motorcyclists. The Paterson Tavern looked very busy too. The cafe in the service station, advertises views over the Paterson River.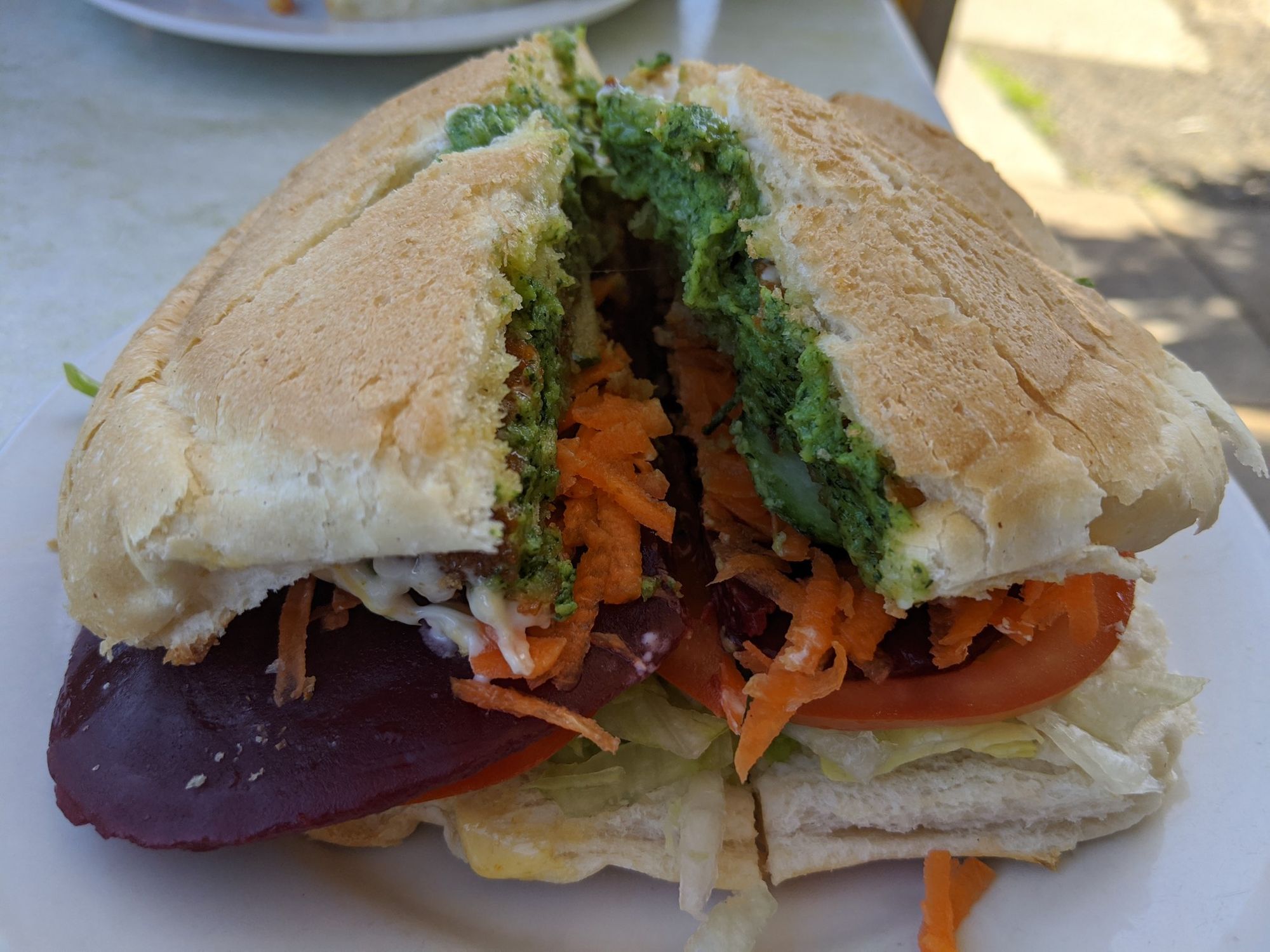 There's no food between Paterson and Maitland.
We had dinner at Maitland's Ometto Pizza, where they cook 48hr dough in a wood fire oven.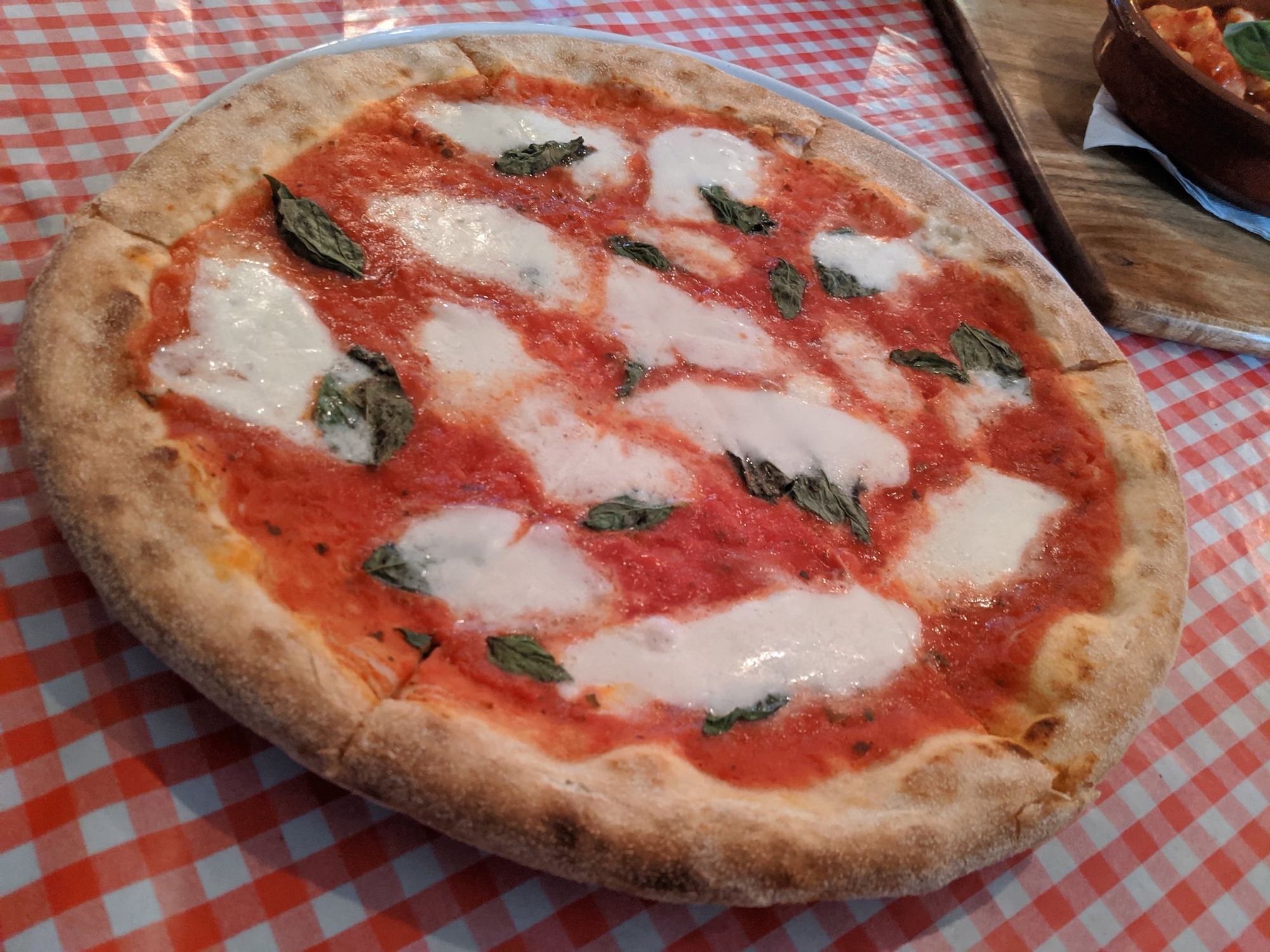 Their Margherita pizza was astoundingly good, and only $18! The place was pretty empty when we went, but with pizza of that quality Ometto's should be packed out every night.
Day 3: Maitland to Singleton: "Rolling Hills"
We chose to cycle upriver to Singleton next, to keep our options open:
If we run out of energy, we can quit midway at Branxton train station. We didn't really know our capacity, so it was nice to have a safety net.
Singleton also has trains, for easy heading home if we get tired.
Singleton's trains continue upriver, where we could try the 5 Great Rides of the Upper Hunter.
You can cycle south to Wollombi.
To get to Singleton, we had the option of taking the flatter, busier New England Highway south of the Hunter River or quiet, hilly backroads north of the river. The Bikesmith helped us adapt jacanpete's route north, to cycle via quiet Oakhampton Rd leaving Maitland, avoiding busy roads.
Road Conditions
Indeed it was lovely cycling out via Oakhampton Road: quiet, flat, full of old houses that will undoubtedly be inundated in the next flood.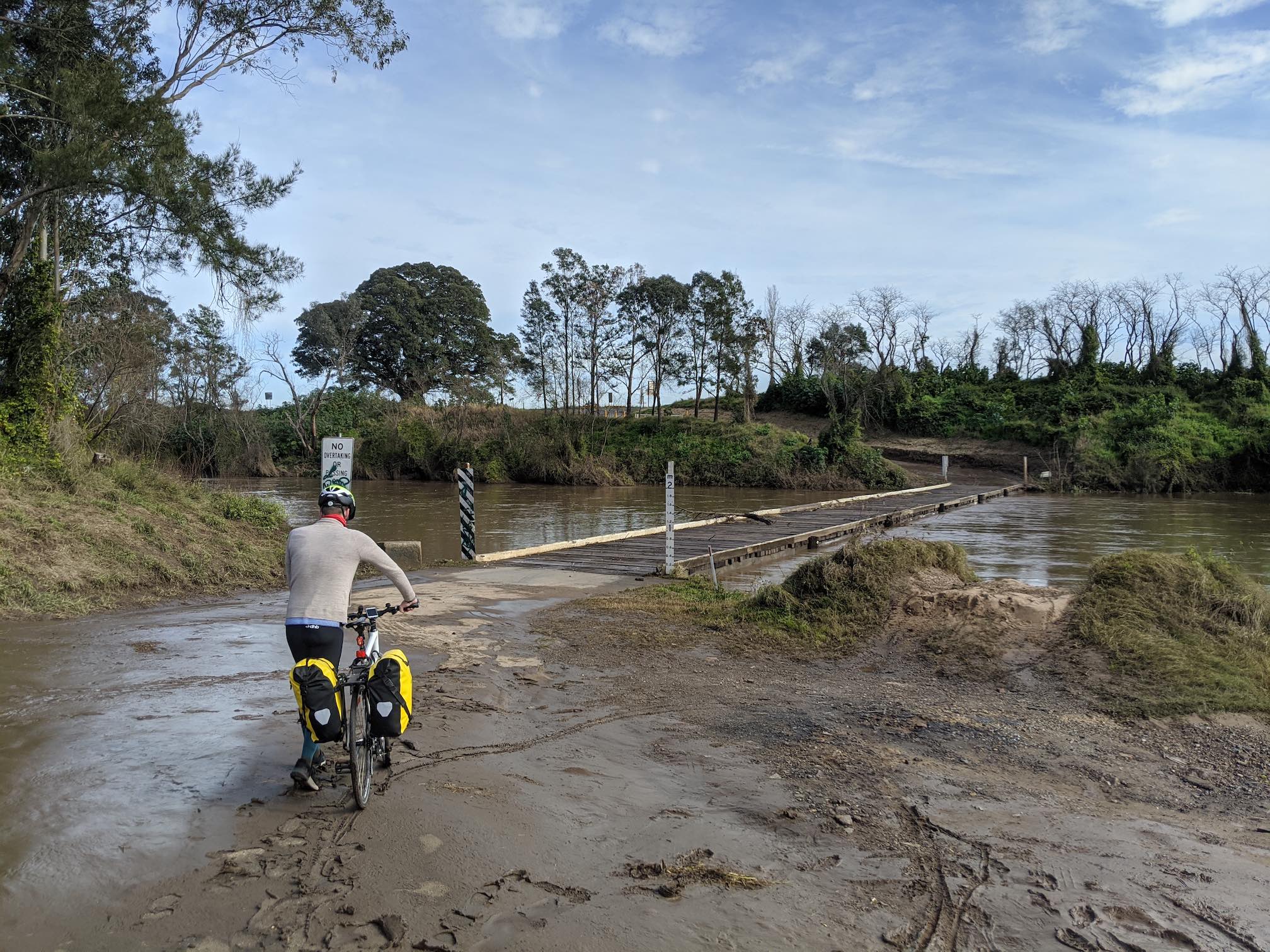 The Melville Ford Bridge is an old, low, single-lane, wood bridge, which had recently flooded and closed to cars. I don't recommend crossing the bridge immediately after a flood: the mud was deep, and it took us over an hour to clean the mud off our bikes.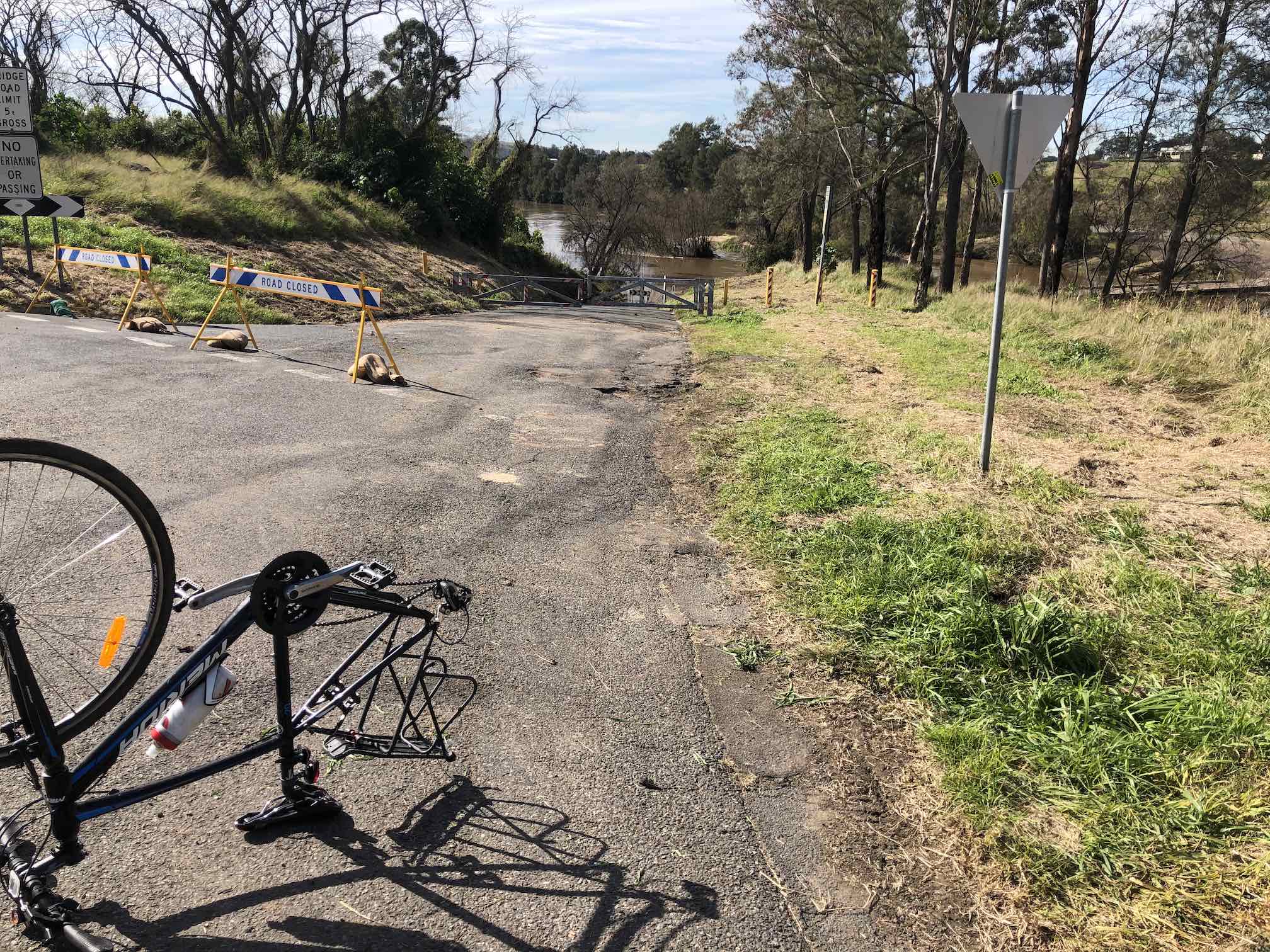 From Melville Ford to Singleton was rolling hills all the way, on extremely quiet, sealed roads.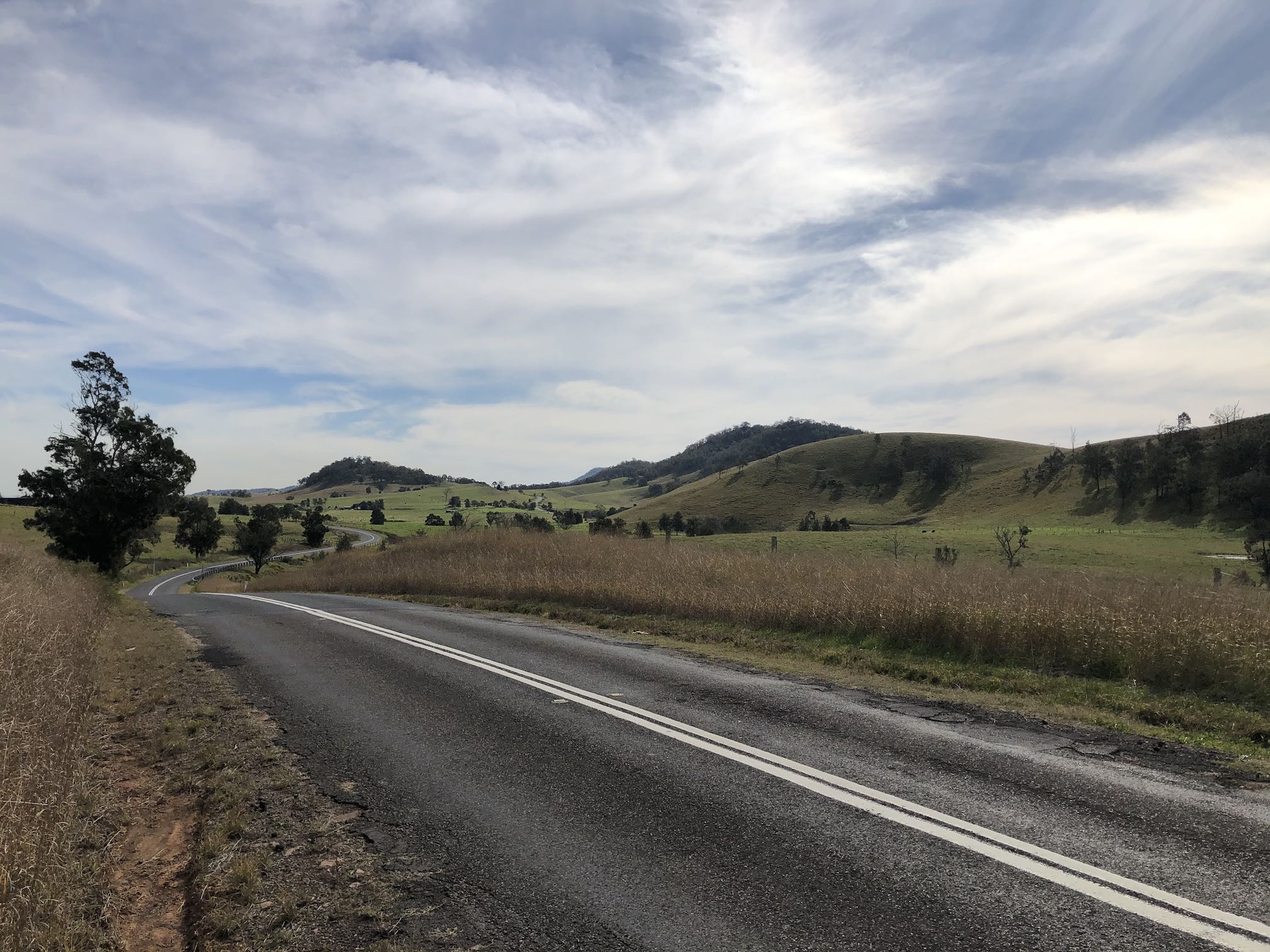 These roads may have only been quiet because the Ford Bridge was closed to cars. None of the climbs are very high, but it's up-down-up-down all the way.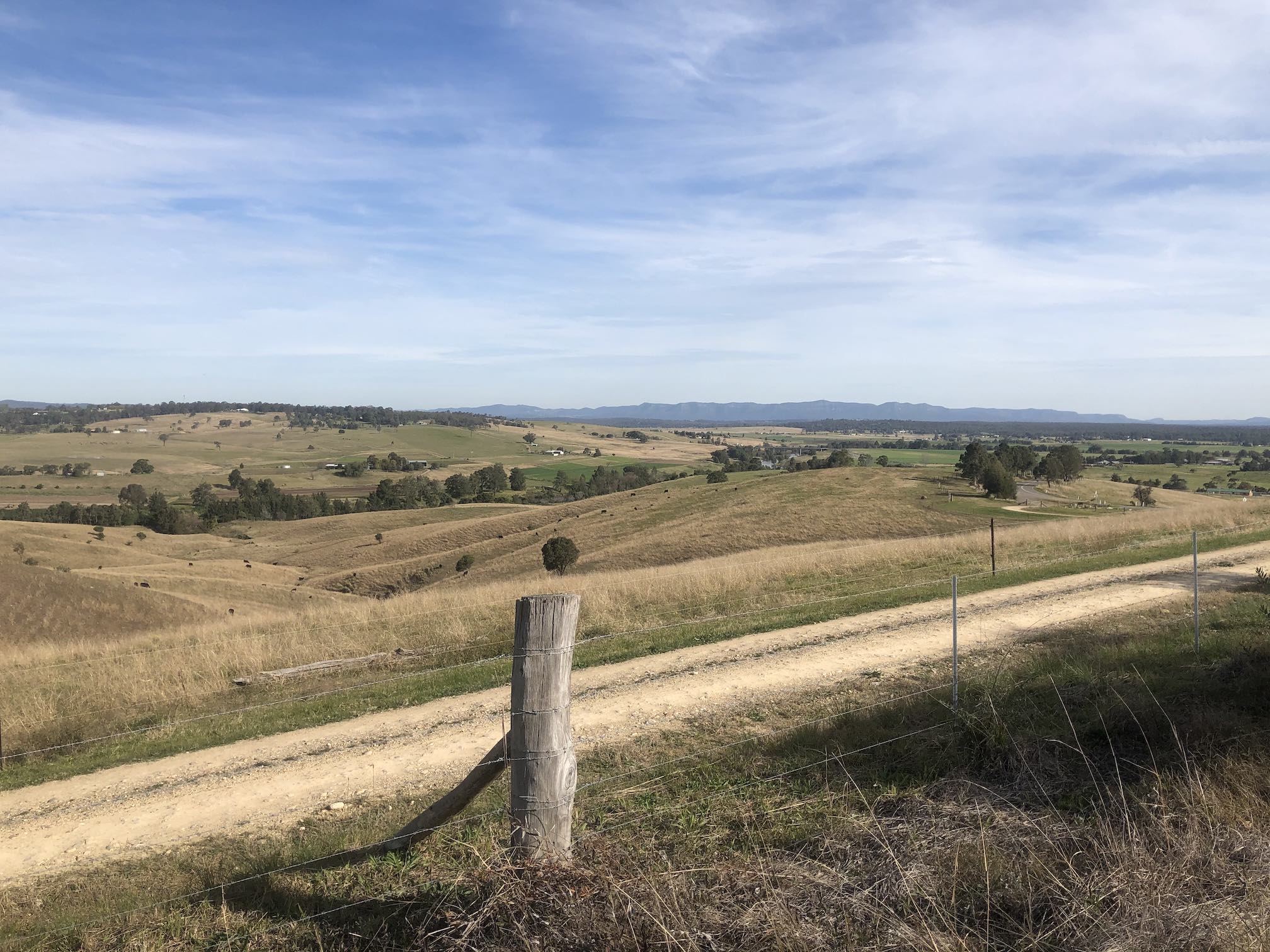 Singleton Food
There were no cafes or shops between Aberglasslyn and Singleton, so pack lunch!
COVID-19 seems to have closed many of the top-rated Singleton restaurants on Google Maps. We saw very few places open on Monday. Even the Clubhouse, a big pokies hotel, was shut.
We had a huge dinner at the Albion Hotel just before their kitchen shut at 8pm, with surprisingly decent vegetarian options: a hearty vegetarian fritter, and vege parma.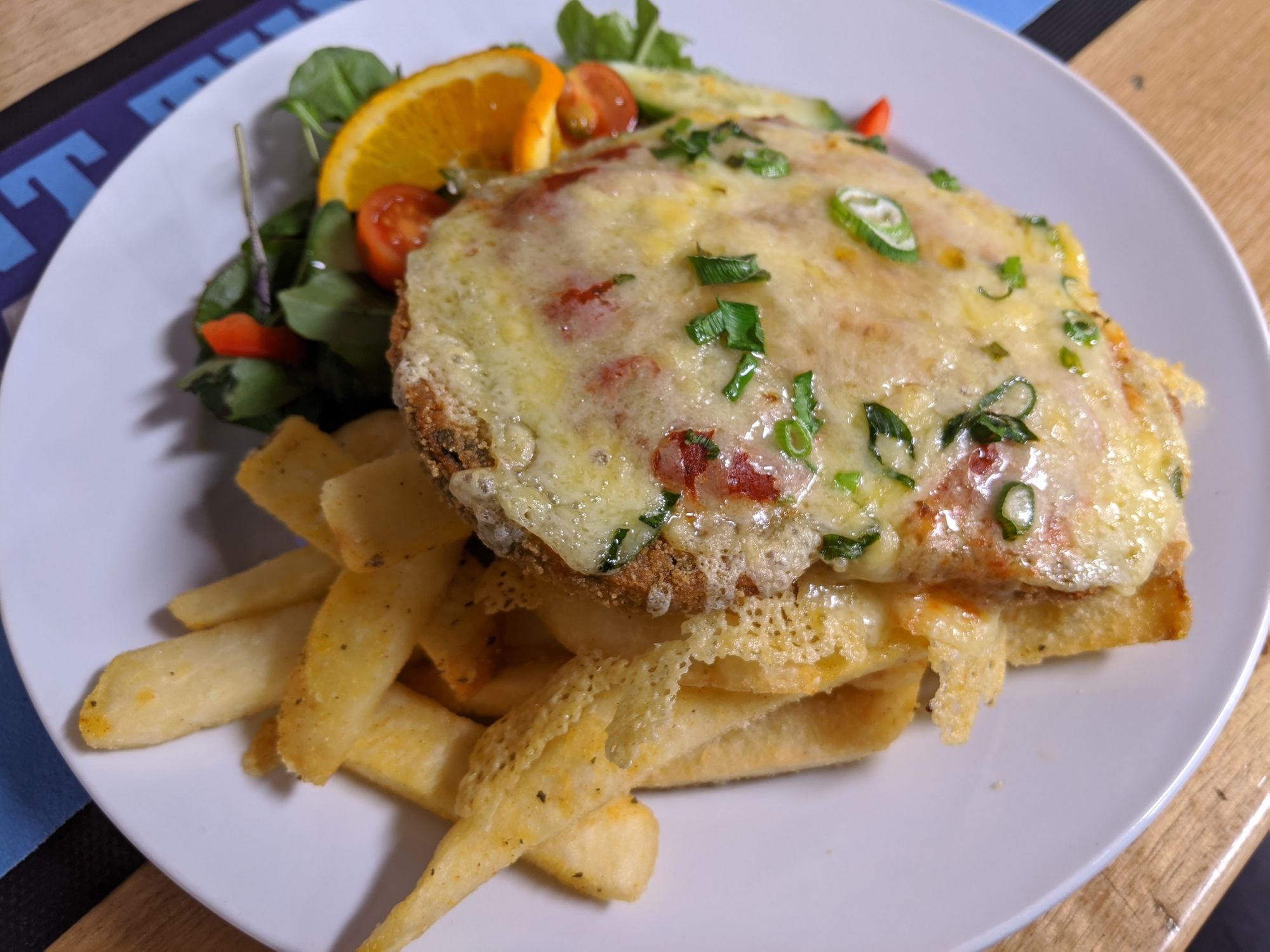 Worn Out Wares Cafe has an amazing plant collection, I wish we'd visited.
Singleton Accommodation
Quest Singleton offers nice serviced apartments, reasonably walkable to town. We appreciated a soak in the tub after a long day of cycling.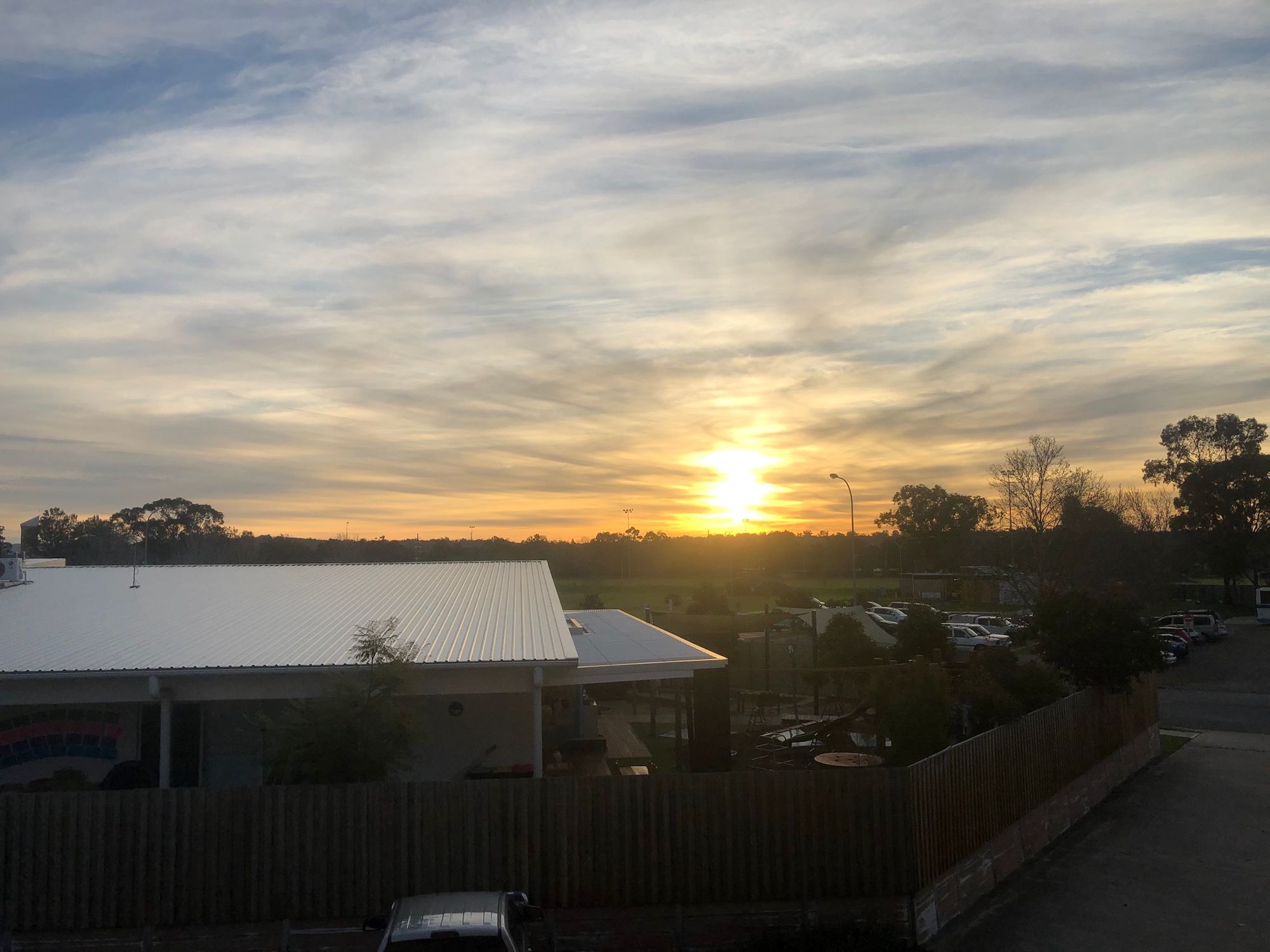 Vibe
Singleton is a charming old settlement over the Hunter. The city started as farming, but today it looks more like a mining town. The area's Satellite View shows the black of open-cut coal mines more than the green of farms.
Next to our hotel is a beautiful new library and town hall. I'm guessing there's a bit of the coal companies flushing a bit of cash at new infrastructure to keep the locals onside.
We noticed that the NSW Planning and Environment Office, 1 Civic Avenue, was a tenant of a building labelled "Coal Services". This metaphor for the state capture of our government by the coal industry seemed a bit heavy-handed.
There were some beautiful old Victorian buildings along the north end of John Street, and the old bridge was neat, but Singleton town was a pretty dead on Monday evening.
Singleton claims to have the world's largest sundial, but it didn't look that big to me. Sundials aren't that hard, they're just a stick pointing into the air. I reckon Whangarei, New Zealand might even have a sundial about the same size. And Whangarei doesn't even make a big deal about it.
Day 4: Singleton to Wollombi
On Tuesday morning leaving Singleton, the town was a lot livelier. There was a big line of local mums getting their coffee fix with their prams outside at Kicks Coffee Co, a hole-in-the-wall coffee shop inside a shoe store - we grabbed a vegan sausage roll and a muffin, and some bananas from Woolworths, and we hit the road.
We followed OzWanderer's route, which is good except for when it leaves Broke Rd to route you via a 15km-long open-cut mine. Switch the map above to satellite mode to see it, it's gargantuan.
Road Conditions - Singleton to Broke
Putty Road, across the train tracks, is a fast, 100km/h road, with a shoulder that's sometimes there and sometimes not. Traffic was low enough that we would take the lane, and motorists were mostly considerate, overtaking us on the other lane.
The road was a bit busy with mining traffic. All the mining traffic seems to have ID numbers on every car. Must be a huge mining operation to need its own shadow vehicle-registration system, that's a role typically performed by state government.
The road starts to climb up to Mount Thorley, which is really just a small hill. To the right you see another huge mine in the distance. The road follows train tracks, which go to another mine.
After Mount Thorley, there's a nice downhill to Broke Road, where you get to travel alongside the largest mine in the area. There's not much shade here, so wear sunscreen. The road widens with all the mining traffic, giving a nice extra-wide shoulder. Broke Road goes around the east side of the mine, and you can see the huge mining trucks going over the frequent bridges.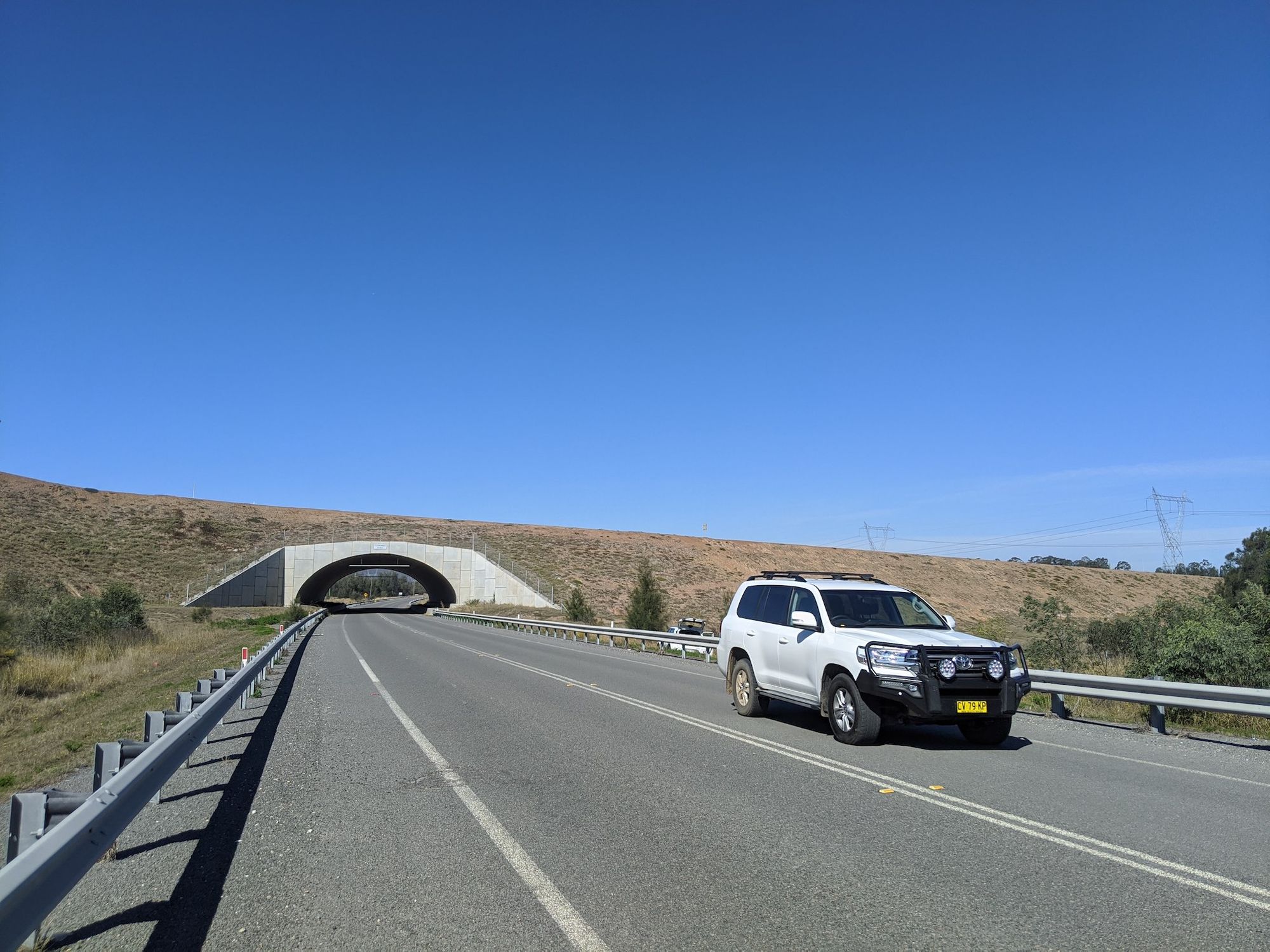 At the top of the ridge, stow your bike roadside and clamber up to the fence to look down into the open pit of the mine. It's terrifying. You can see the true extent of this mine on Satellite View on Google Maps. Consider the climate impact of this mine.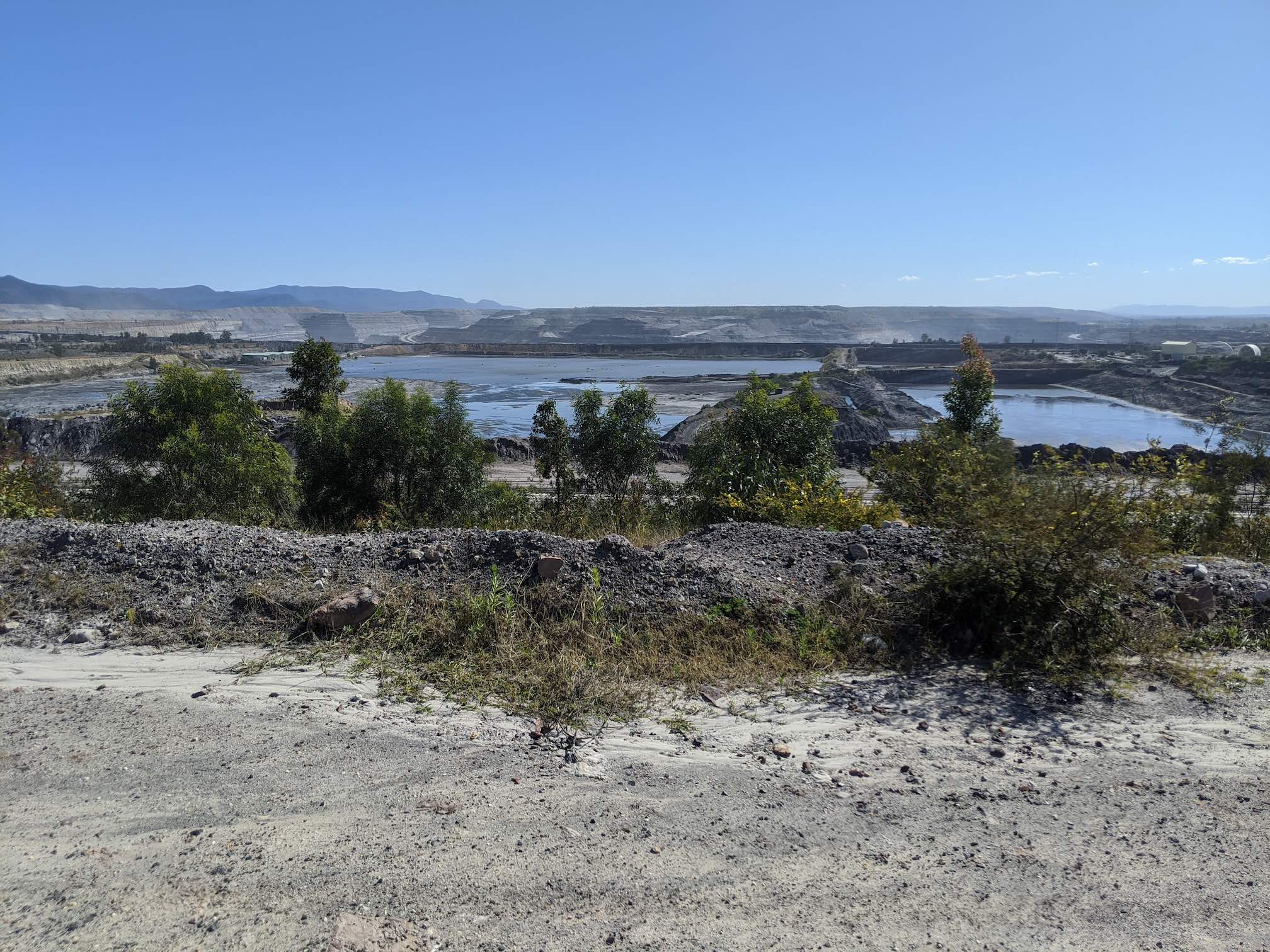 South into Broke, the roads are very quiet. We stopped for a picnic at McNamar Park, and used the loos, on the west side of the road.
Road Conditions - Broke to Wollombi.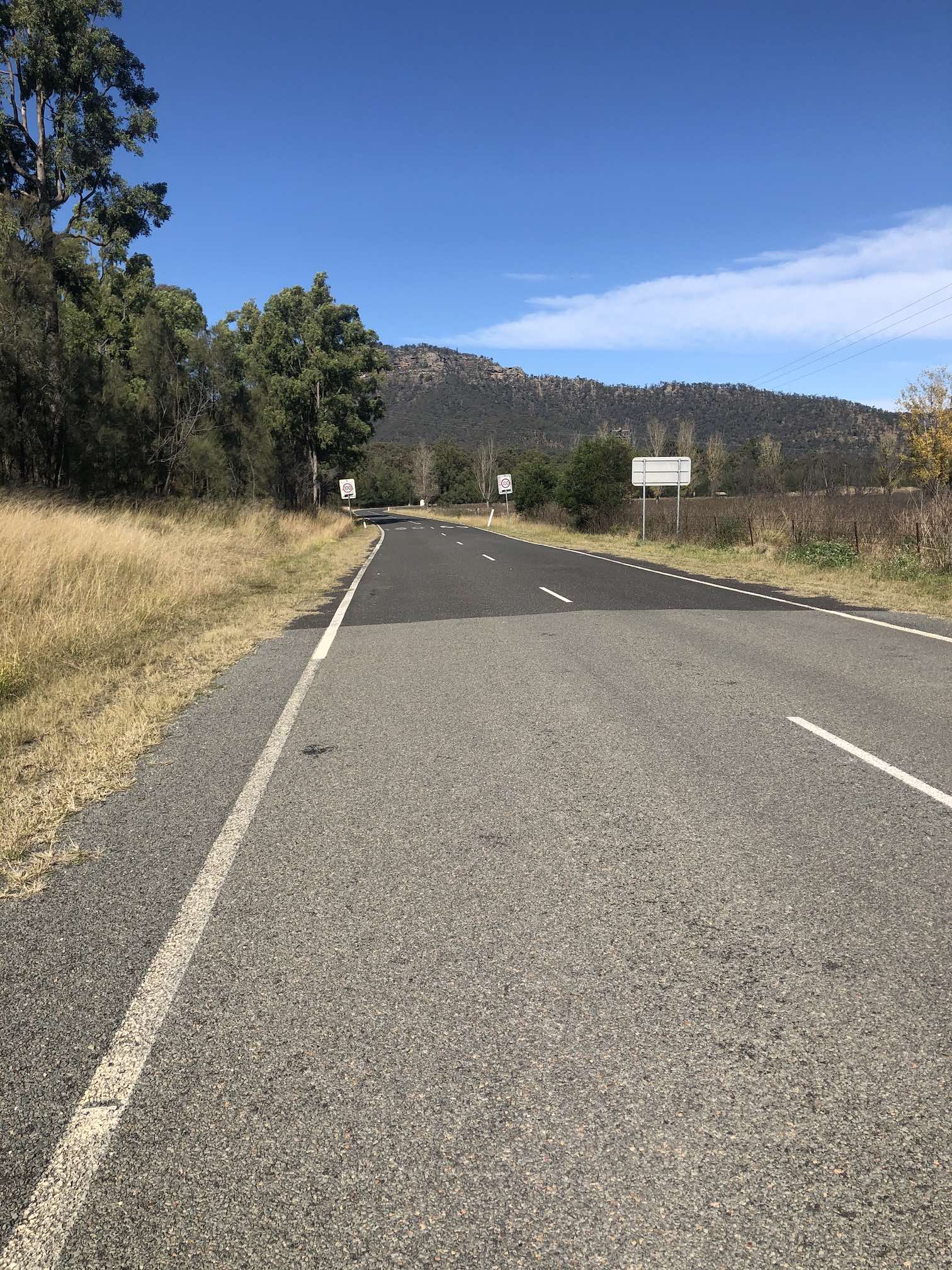 This was a really lovely afternoon of cycling. I'm told on the weekends this road is very busy with Sydney daytrippers, but midweek this road was sublime. Traffic was mostly motorcyclists, with perhaps a dozen cars passing us the entire trip.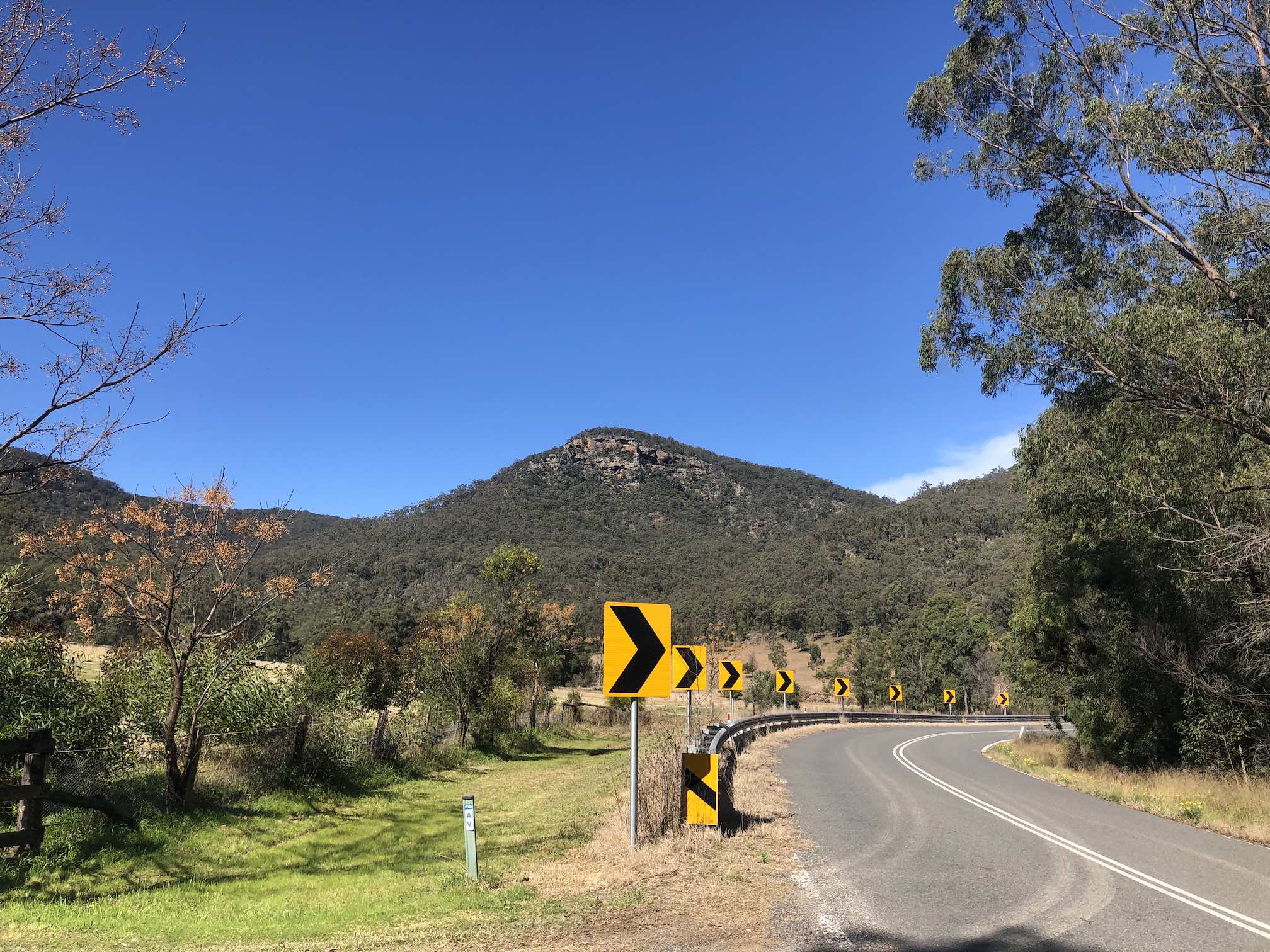 The Broke side has many wineries, the middle has amazing sandstone mountains and boulders either side, and towards Wollombi you're rewarded with a road through lush, shady forest. Take the time to look around, it's gorgeous scenery.
The roads has a shoulder that comes and goes, and there are some potholes, but it's sealed all the way, and the traffic is so low that you can take the lane most of the way.
The road trends very slightly uphill. I really thought it would be more uphill than it is, but the river has carved out quite a flat valley floor. It wasn't tough at all.
There's an old wooden bridge at Payne's Crossing, which is being replaced by a new modern structure. I kind of like the old charm of the old bridge, but it would probably be washed out at the first flood.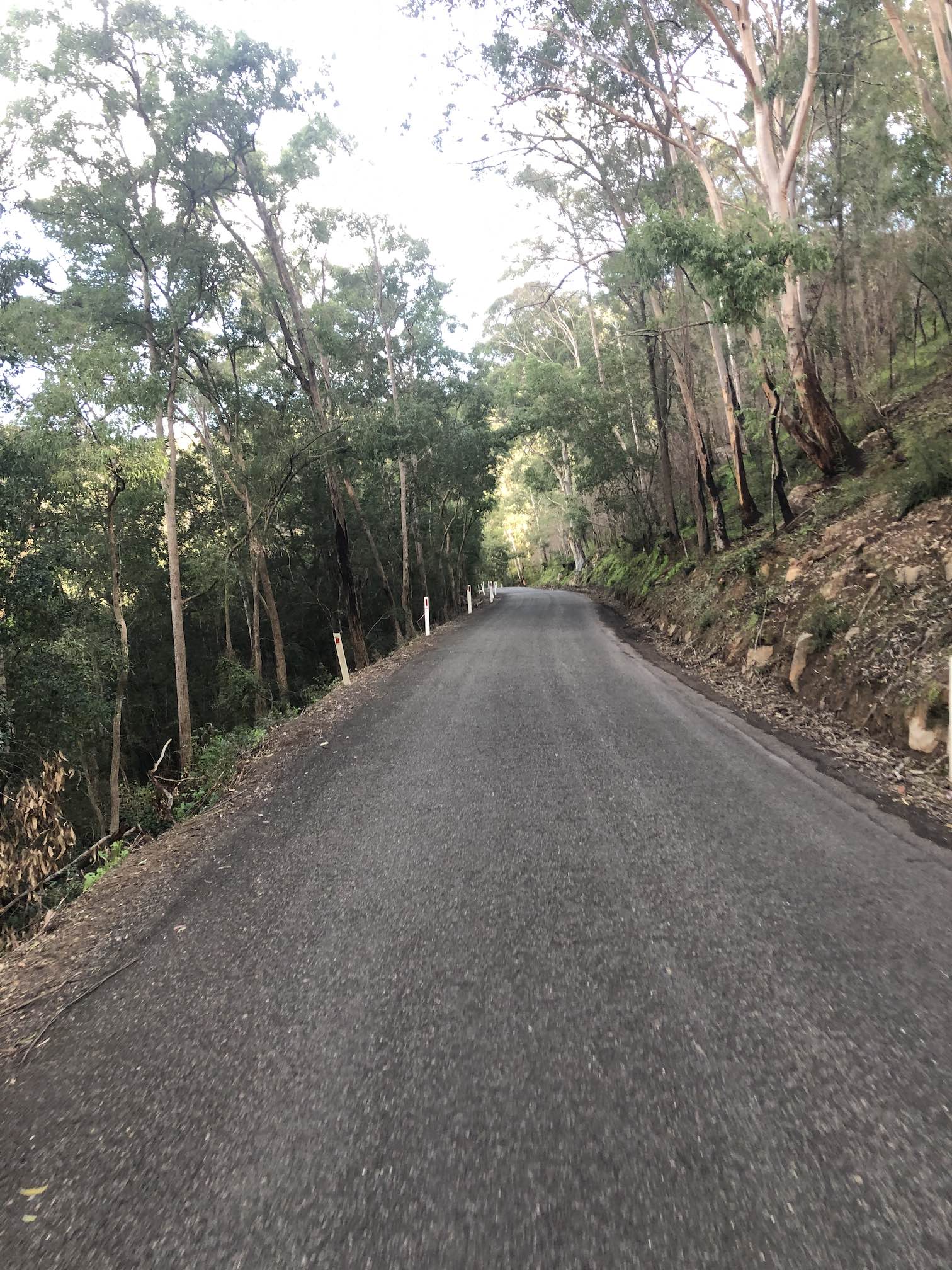 Food
No shops between Singleton and Broke, just farms and a mine.
Broke had a single General Store/Cafe/Petrol Station, and some winery restaurants  (Margan Wines, Nightingale Wines), both of which were shut midweek. We considered staying at Broke overnight, but the folks at The Bikesmith recommended we stay in Wollombi instead, and I'm glad we did, because Wollombi has more food options. There were a few vineyards just after Broke, but no restaurants open when we were passing through until Wollombi.
The Wollombi Tavern, opens late, and Wollombi also has cafes at Myrtle House and the General Store.
The General Store is a beautiful old wooden building that transports you back 100 years, we bought sourdough, quiche, and a frittata, and our hosts provided eggs and tomatoes. Our accommodation was so cozy that we cooked dinner there, instead of heading out to the Tavern.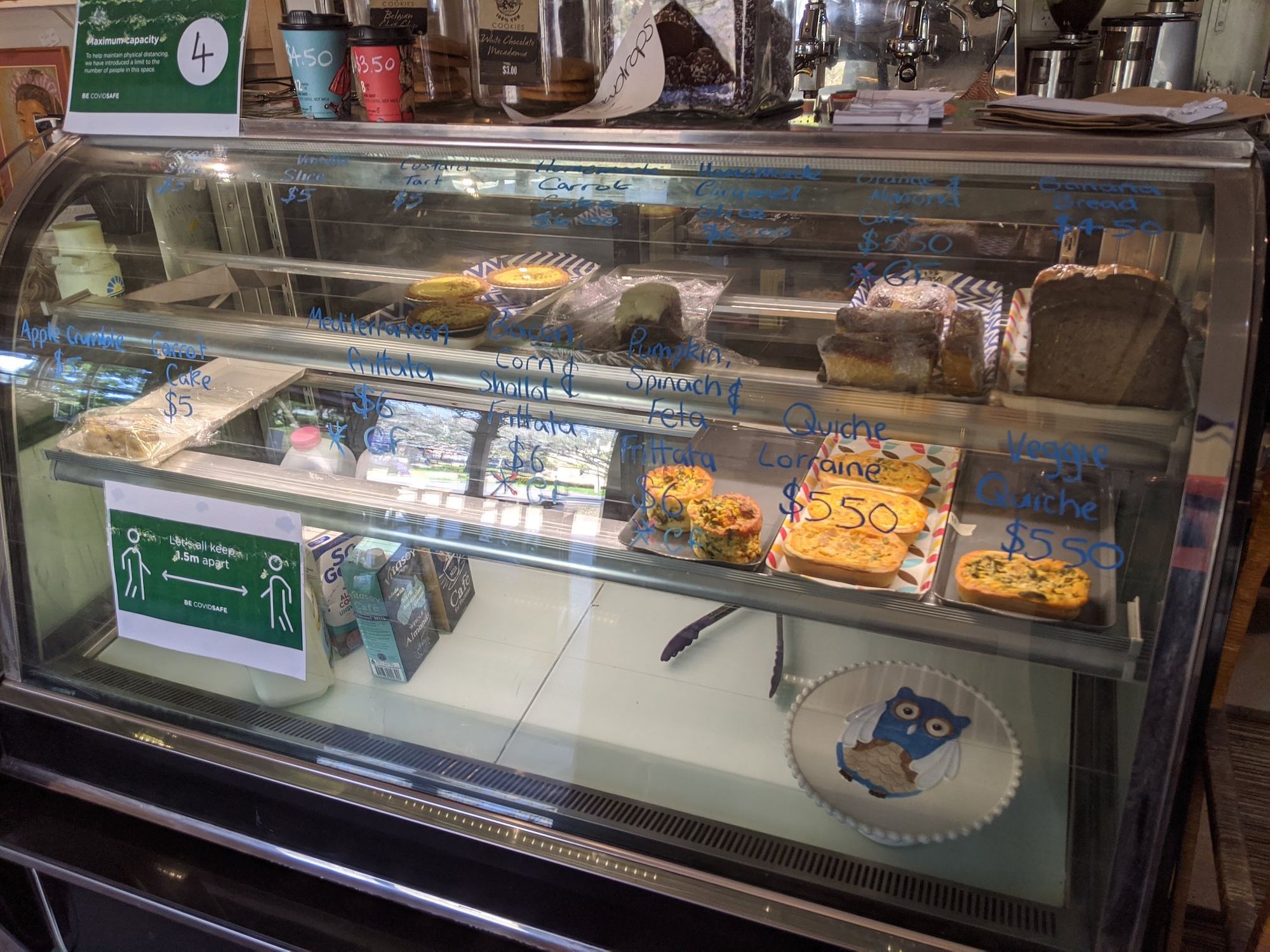 Myrtle House does a very on-trend brunch, has a built-in bookshop(!), and sells takeaway boxes of their food for after they shut at 3/4pm. We ordered a frozen box of their "homemade" pumpkin soup and a well-dressed salad bowl for dinner. Can recommend.
Wollombi Vibe
I enjoyed Wollombi! It's small, historical, surrounded by nature, and feels tucked into a valley. They do a good trade in Sydney weekend getaways, with a lot of cabin accommodation. Wollombi seems particularly popular with motorcyclists.
Wollombi is on the Great North Road, the once-main road between Sydney and Newcastle. Wollombi flourished, with gorgeous residence, churches, and courthouse buildings, before the Great North Road was deprecated by the train line following a very different line to the east, and Wollombi has been architecturally frozen in time since then.
Wollombi Accommodation
There are many cabins in Wollombi, but most of them were booked out when we looked the night before.
If you're bikepacking, the Wollombi Tavern offers campsites.
We stayed at "The Boiling Billy" Barn at Caper's Guesthouse. This hundred-year-old converted wood barn was a highlight of the trip, built into the raw sandstone of the hill with a wood fire and loft bedroom.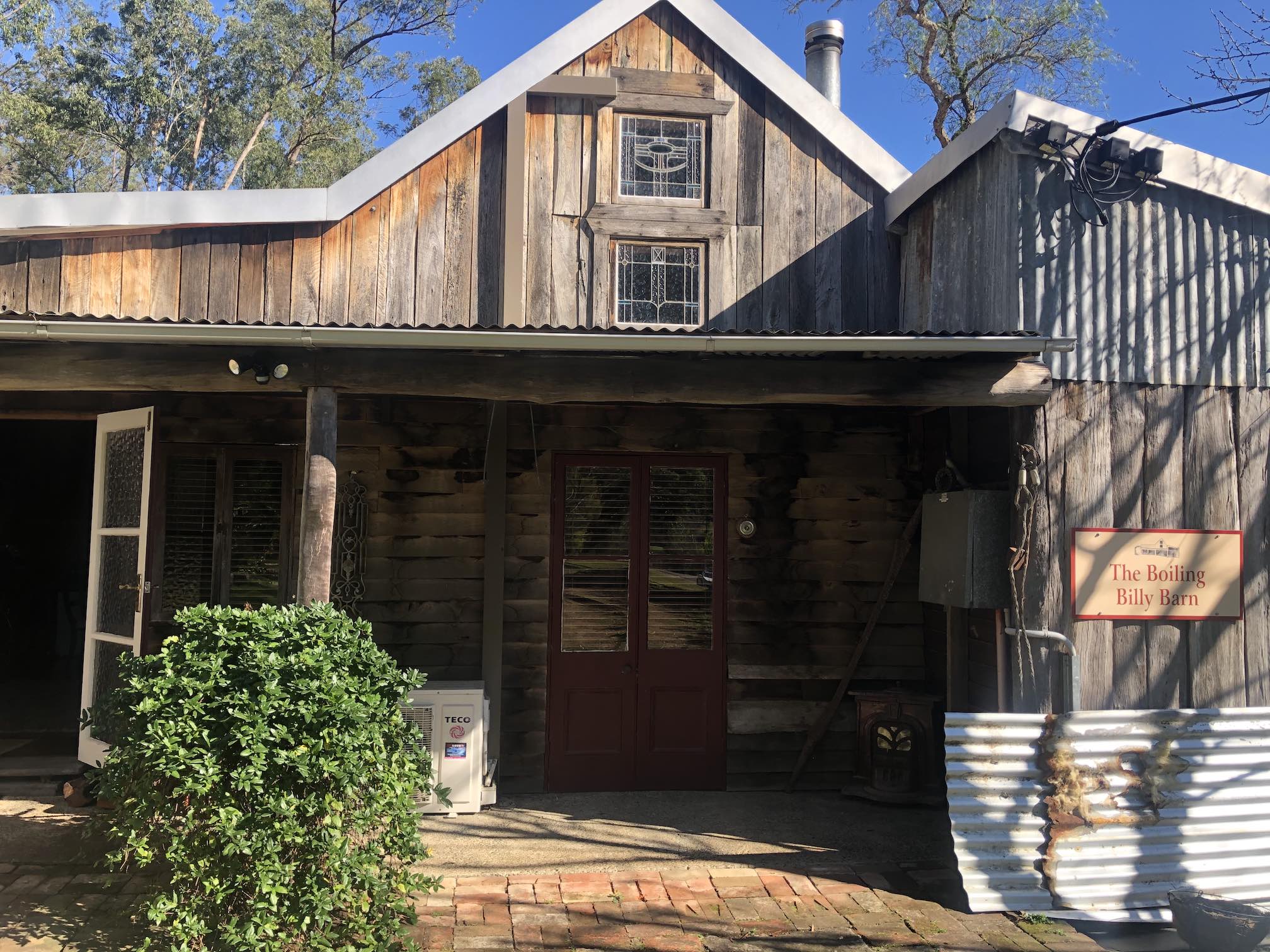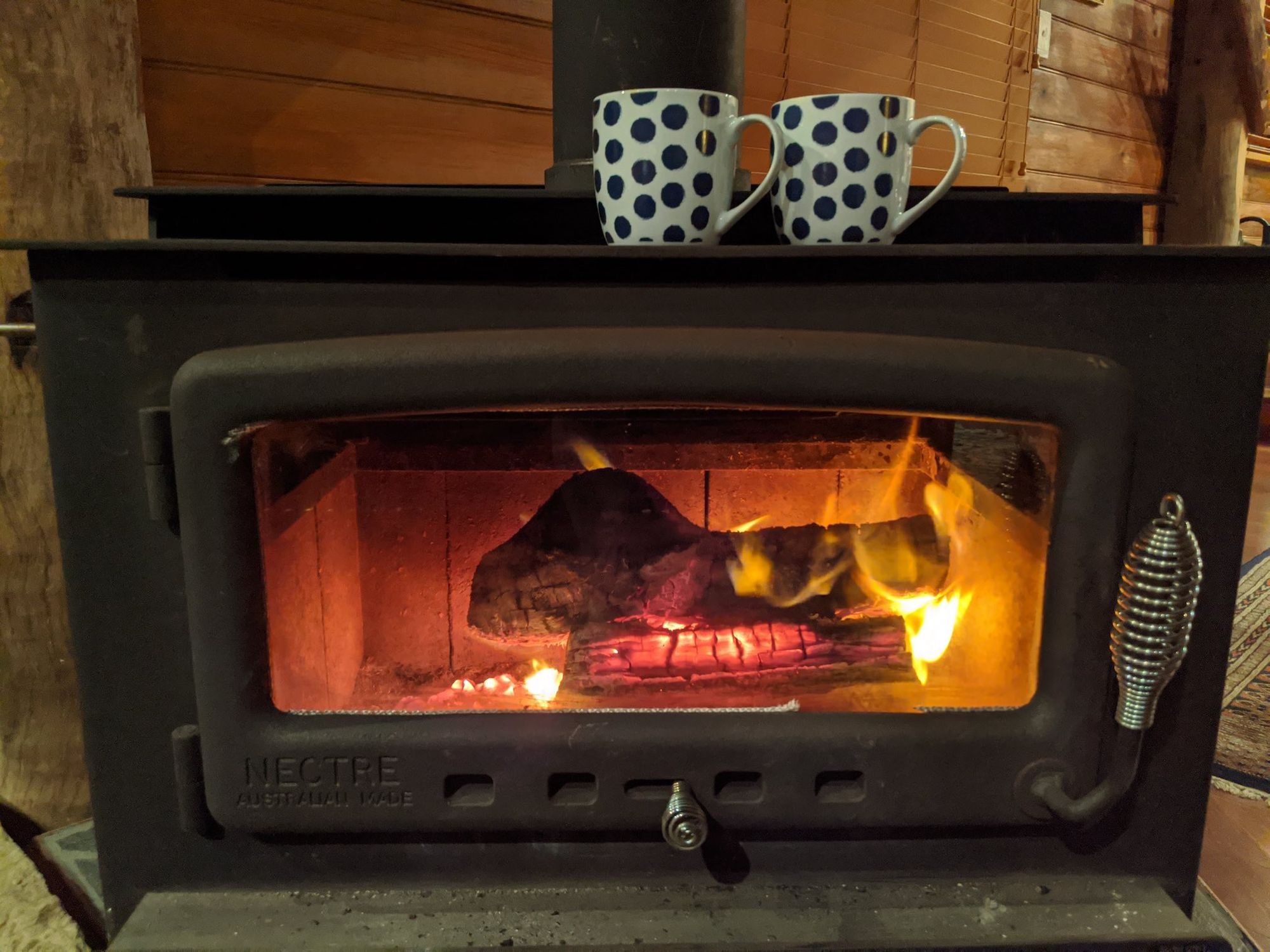 Day 5: Wollombi Rest Day
We considered cycling the loop from Wollombi to Laguna and back via Yengo Creek Road and Great North Road:
But we decided to give our legs a rest for the day.
Instead, we walked around Wollombi Village, following the Wollombi history trail, and walking along the Wollombi Brook. There had recently been a lot of rain, and we saw a lot of evidence of flooding, sadly washing away some of the seedlings the local landcare group had planted. We saw pictures of the Tavern being totally underwater. The Wollombi Brook looked tiny when we visited, but it's catchment is deceptively large.
Our host, Mike, is a trail organizer, and he kindly offered to take us on a preview tour, scouting the next trail he's working on.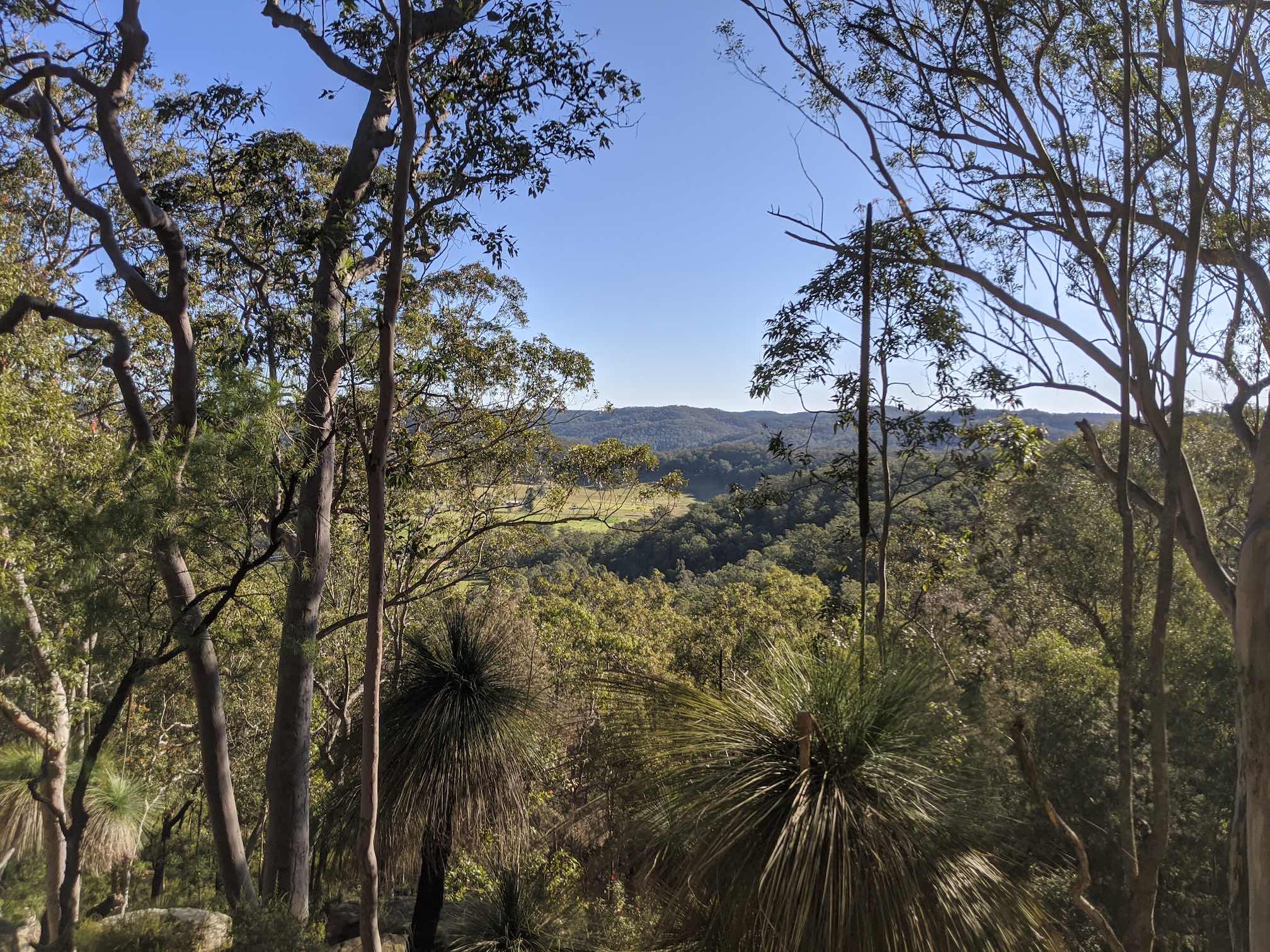 This involved bush-bashing our way from the Wollombi Commons, up a sandstone ridge, and down the other side back to the accommodation. Good fun, and I'm glad I bought long pants. We saw many native plants, a wombat hole, and huge sandstone formations. If you head to Wollombi next year, perhaps this trail will be opened officially?
Day 6: Wollombi to Pokolbin
Road Conditions
Wollombi to Millfield is beautiful, but quite windy and narrow -- a few small hills, not much shoulder, with medium traffic.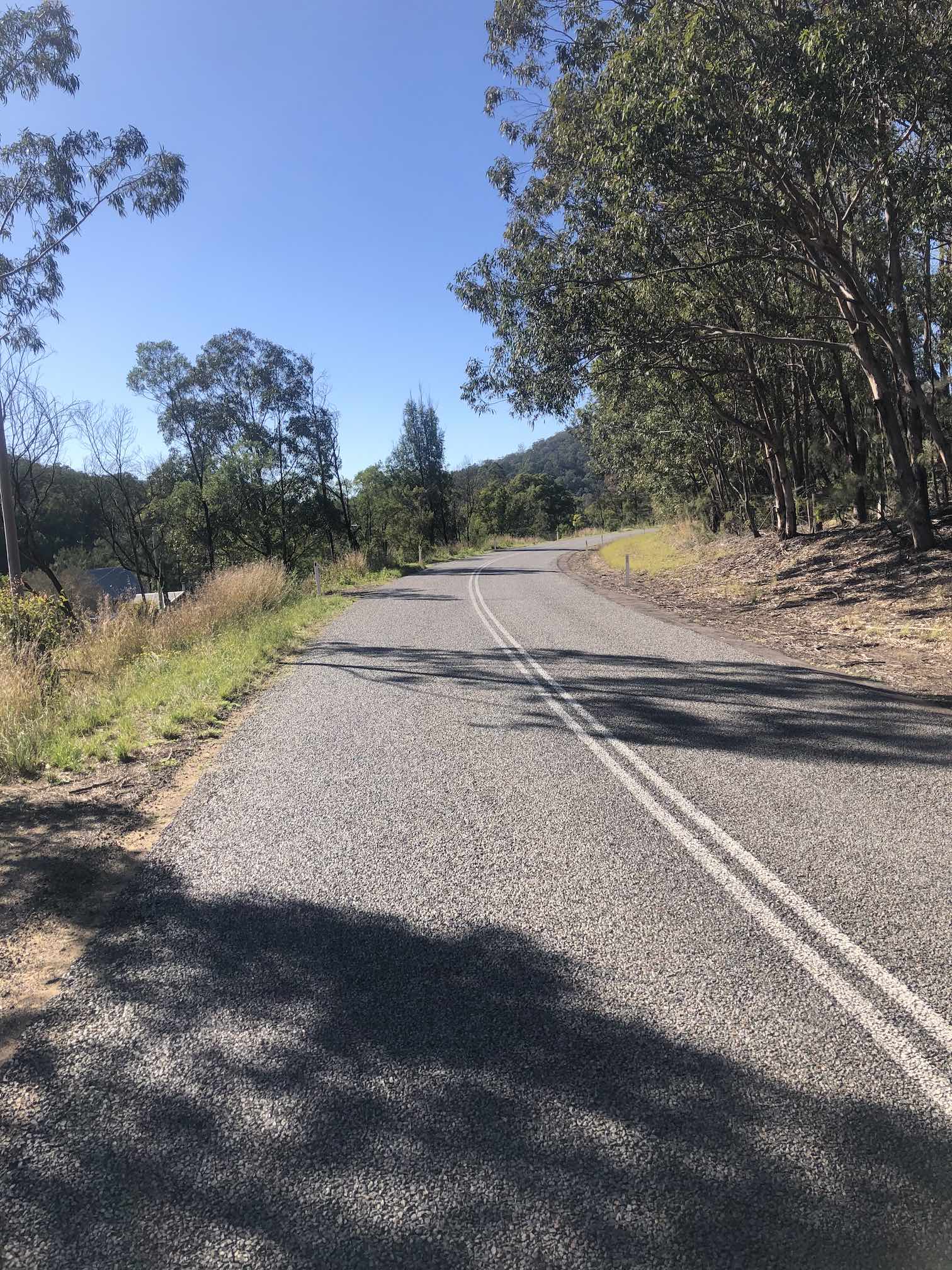 I recommend tackling this section midweek when traffic is lower, and putting your lights on.
From Millfield, we climbed Mount View Road, a well-packed dirt road, we did it on hybrid bikes, and I think it would be fine even on a road bike. The road was lovely and quiet, shaded by the trees all around. A slow ascent, then a few km of rolling hills through farmland.
You can optionally head a km or so up the ruttier dirt road to Mt Baker Lookout for some better views. The views over the Hunter Valley are extraordinary.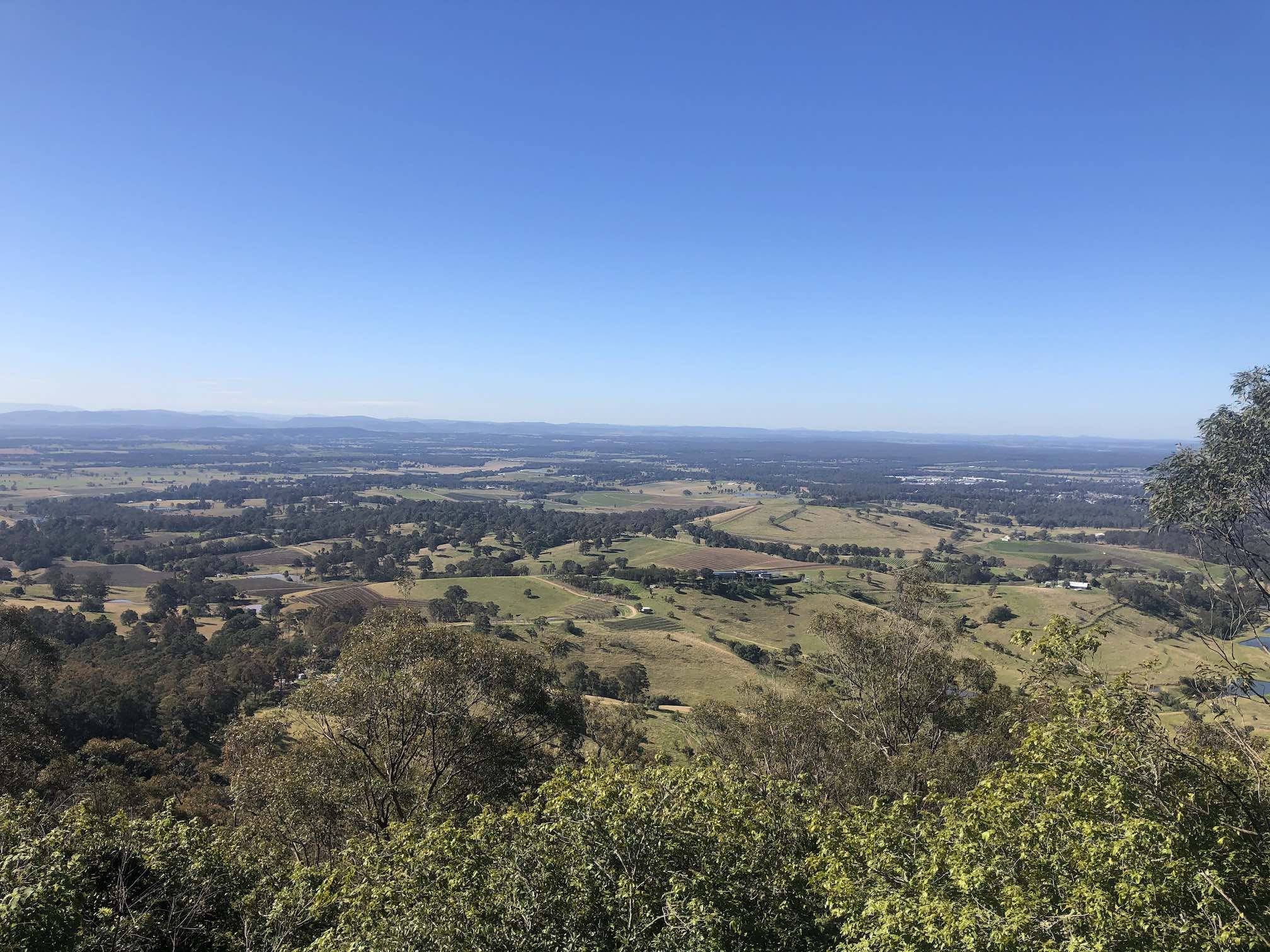 The roads in Pokolbin, despite being dead straight, are not flat: they seem to have been placed without any regard to the landscape, going up and down rather than following the contours of the land.
On McDonalds Road there is a patchy set of bike lanes, which swap sides of the road. They're sometimes sealed, sometimes just stones on grass, and sometimes disappear entirely. The wine region here has a huge opportunity to upgrade their cycling infrastructure. There is an unprotected, painted cycle lane on Hermitage Road, but Hermitage Road doesn't connect with any train station, so we couldn't get there in the first place.
Food
Millfield General Store has a cafe.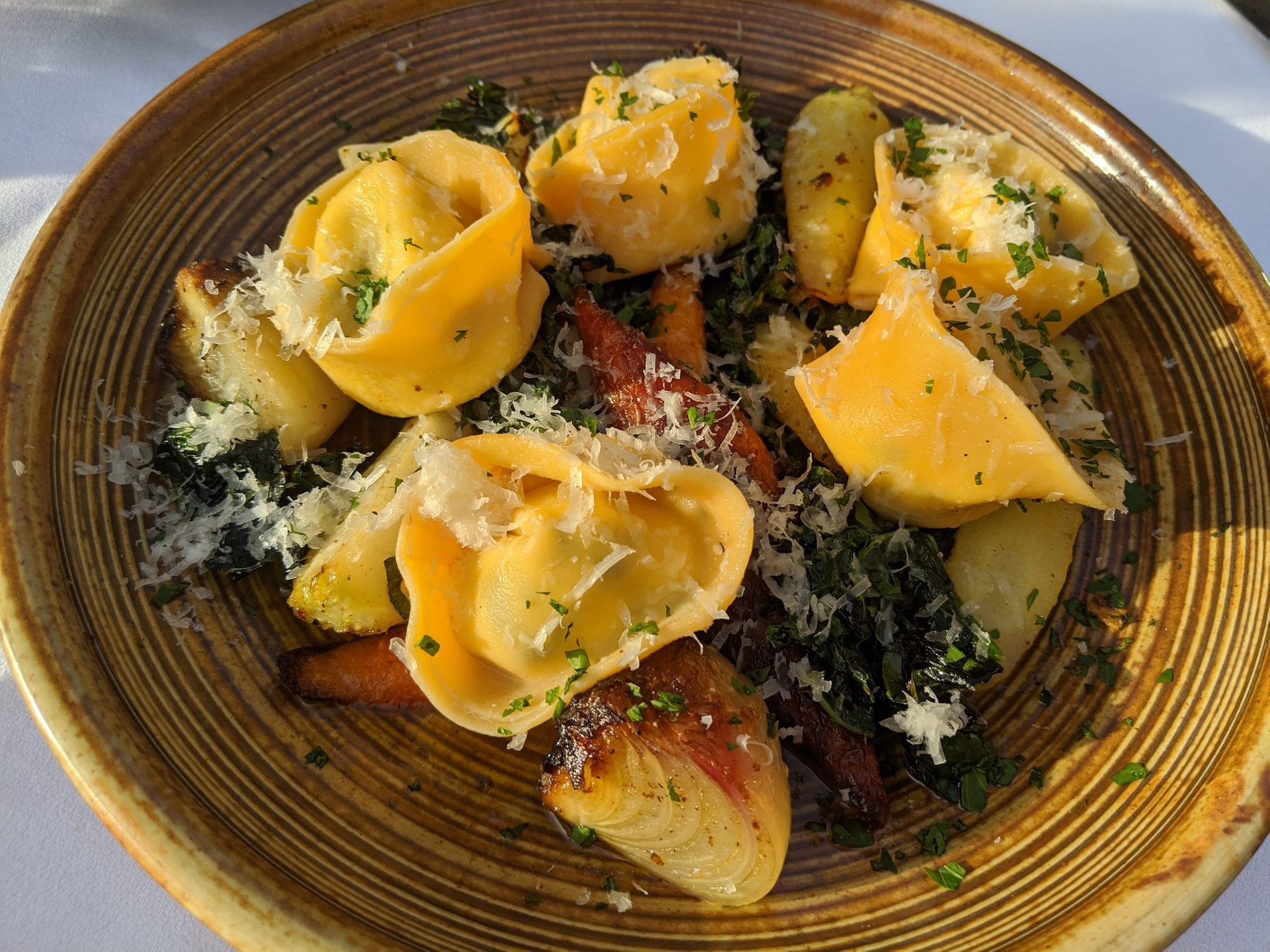 We rewarded ourselves with fancy lunch at Bistro Molines (bookings essential, even for Thursday lunch) with extraordinary views over the Hunter Valley from on top of a hill. If you're vegetarian, it's probably not worth the price charged, their vegetarian dishes are dishes with the meat taken out, without being replaced by other protein.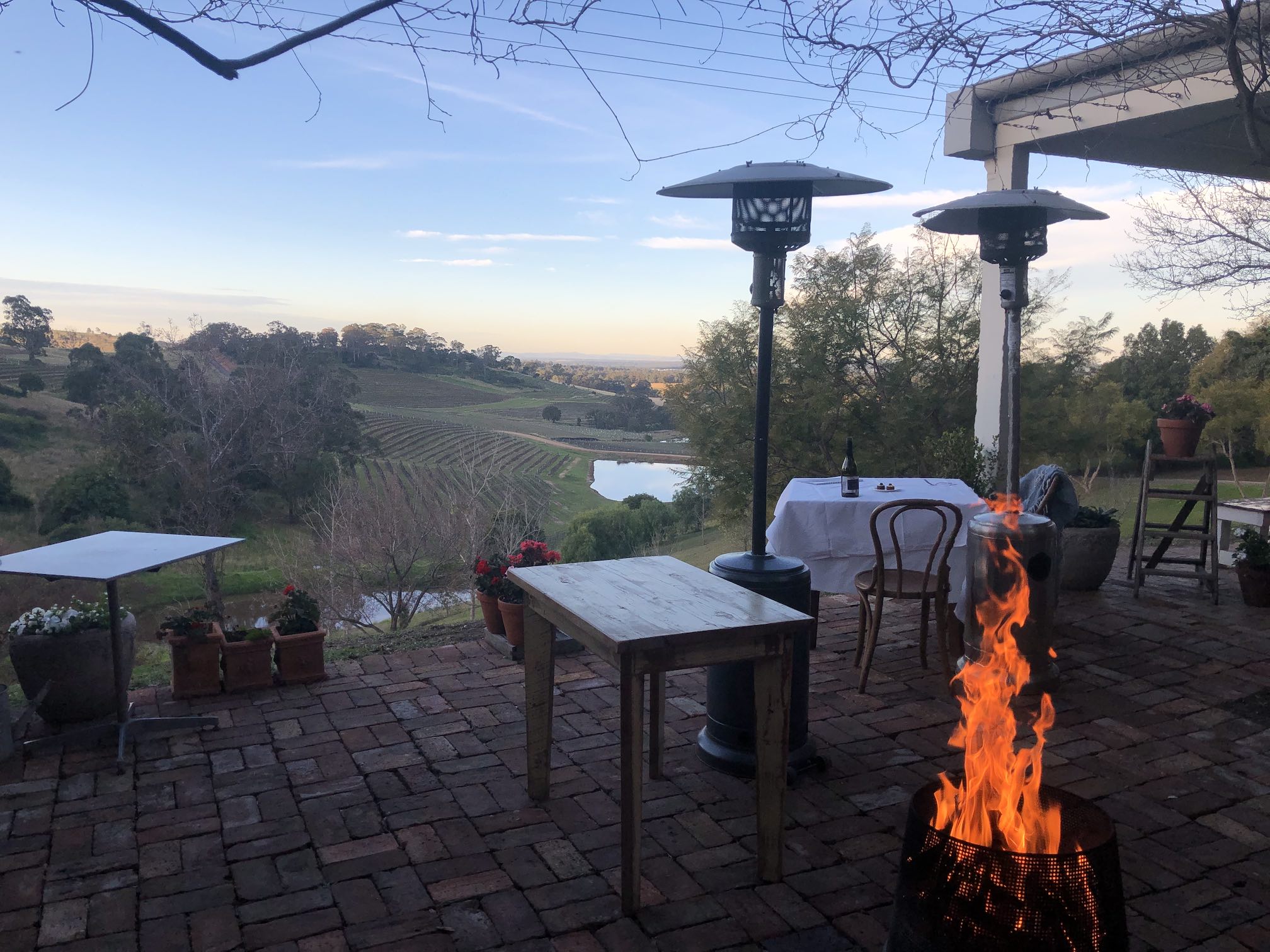 The Pokolbin area has heaps of restaurants, but Pokolbin's not very walkable, so you'll have to cycle at night time on dark roads to get there.
We had dinner at Oishii (Japanese/Thai), with surprisingly good vegetarian options, offering to substitute many Japanese meat dishes for Tofu.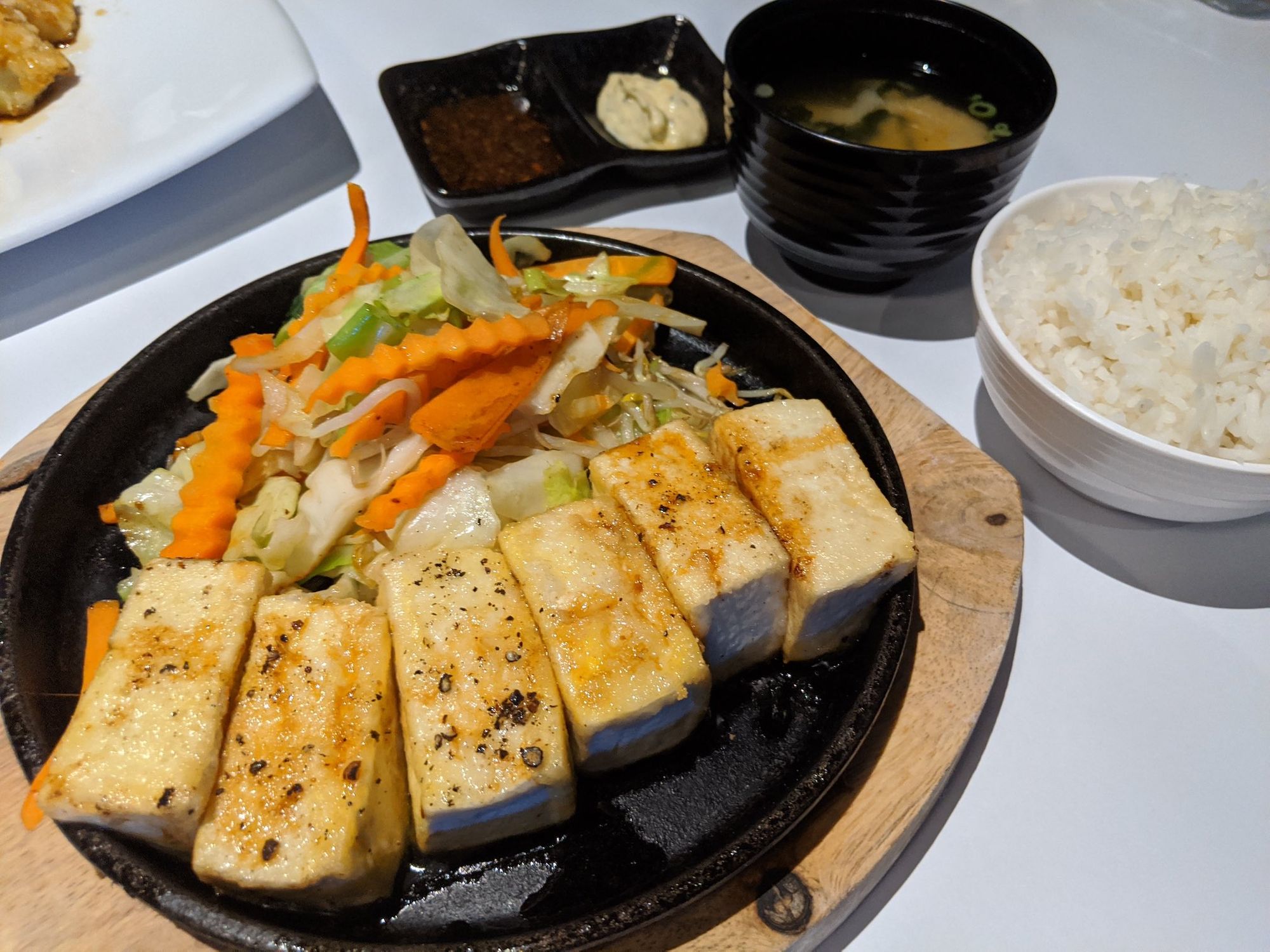 Accommodation
We stayed in a Studio at Cam Way Estate, for $181/night over Thu/Fri. Hunter Valley prices double on Fri/Sat nights with the weekenders from Sydney coming up. It would have been a lot cheaper to stay midweek, but almost all wineries shut midweek.
Pokolbin has tons of accommodation options: cabins, resorts, hotels, farmstays. It seems far cheaper to stay in Cessnock, but then it's a long cycle out to the wineries. The interesting restaurants mostly cluster in the Pokolbin area, rather than in Cessnock town.
Day 7: Pokolbin, Wine Tasting
Pokolbin's Hermitage Rd has a dedicated cycle lane, but we didn't check it out, it was too wet. It's a shame Hermitage Rd doesn't connect to any train stations, that would make it much easier for people taking the train with their bikes.
Read these posts instead
It was raining, too wet to look around much, and our photos were pretty miserable. Read these sunny-day posts instead:
eBiker Diary cycled around Pokolbin.
Wine Country Tourism: Cycling in the Hunter Valley
Concrete Playground on Cycling and Drinking your way around the Hunter Valley
Bits and Pieces Blog: A Day Cycling in the Hunter
Hunter Valley Cycle Tourism Operators
For an easier experience, you could bus/drive up and rent a bike. There are a few operators, all of whom have suggested wine tour maps:
It's a shame these maps are private.
Food
All the wine tourism operators said they'd been flat-out busy since interstate travel restrictions started.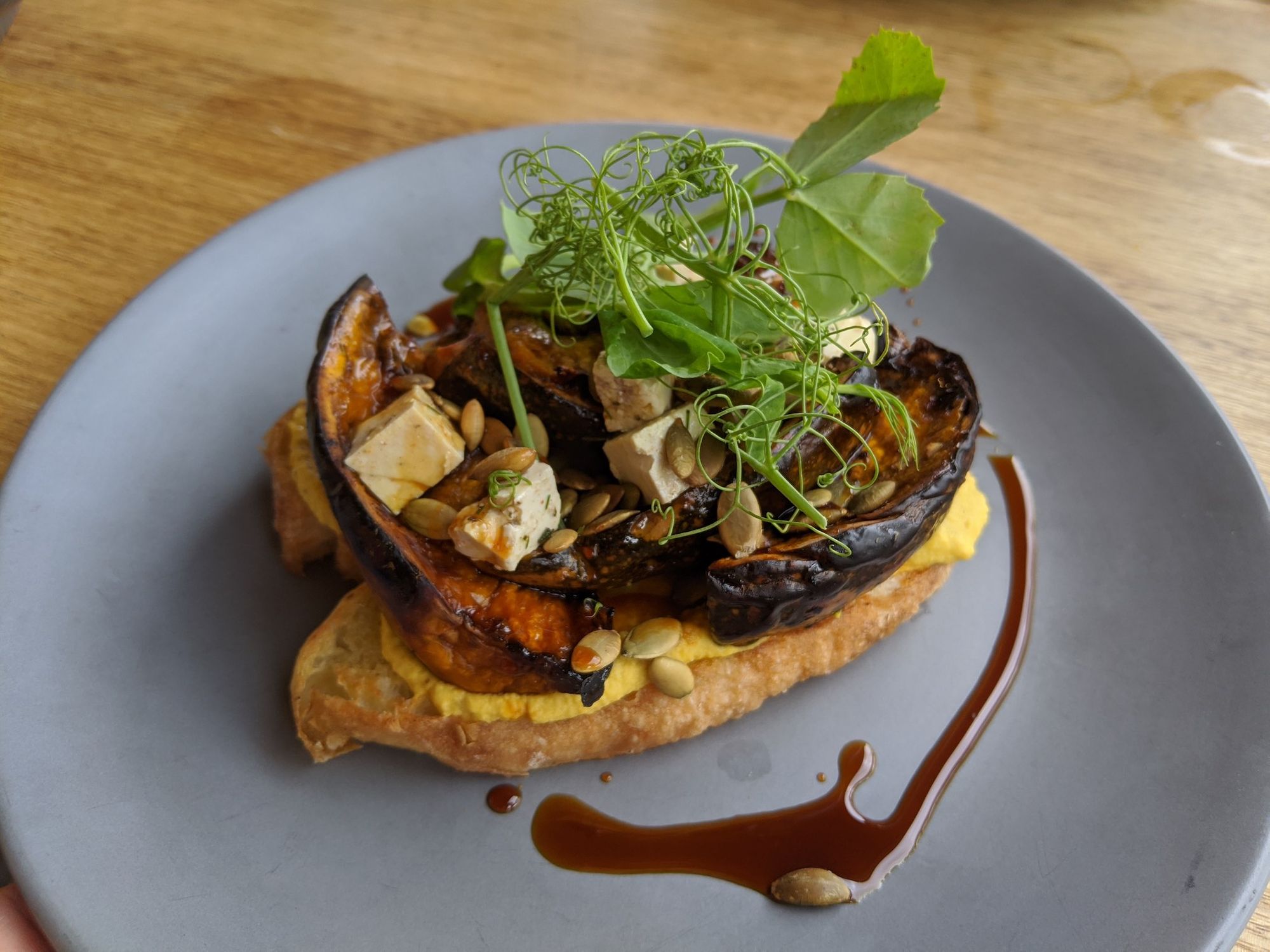 Kawul for Lunch -- the only Plant-Based restaurant we could find in the Hunter Valley. Kawul's menu is mostly vegan with some meat options, rather than being the opposite.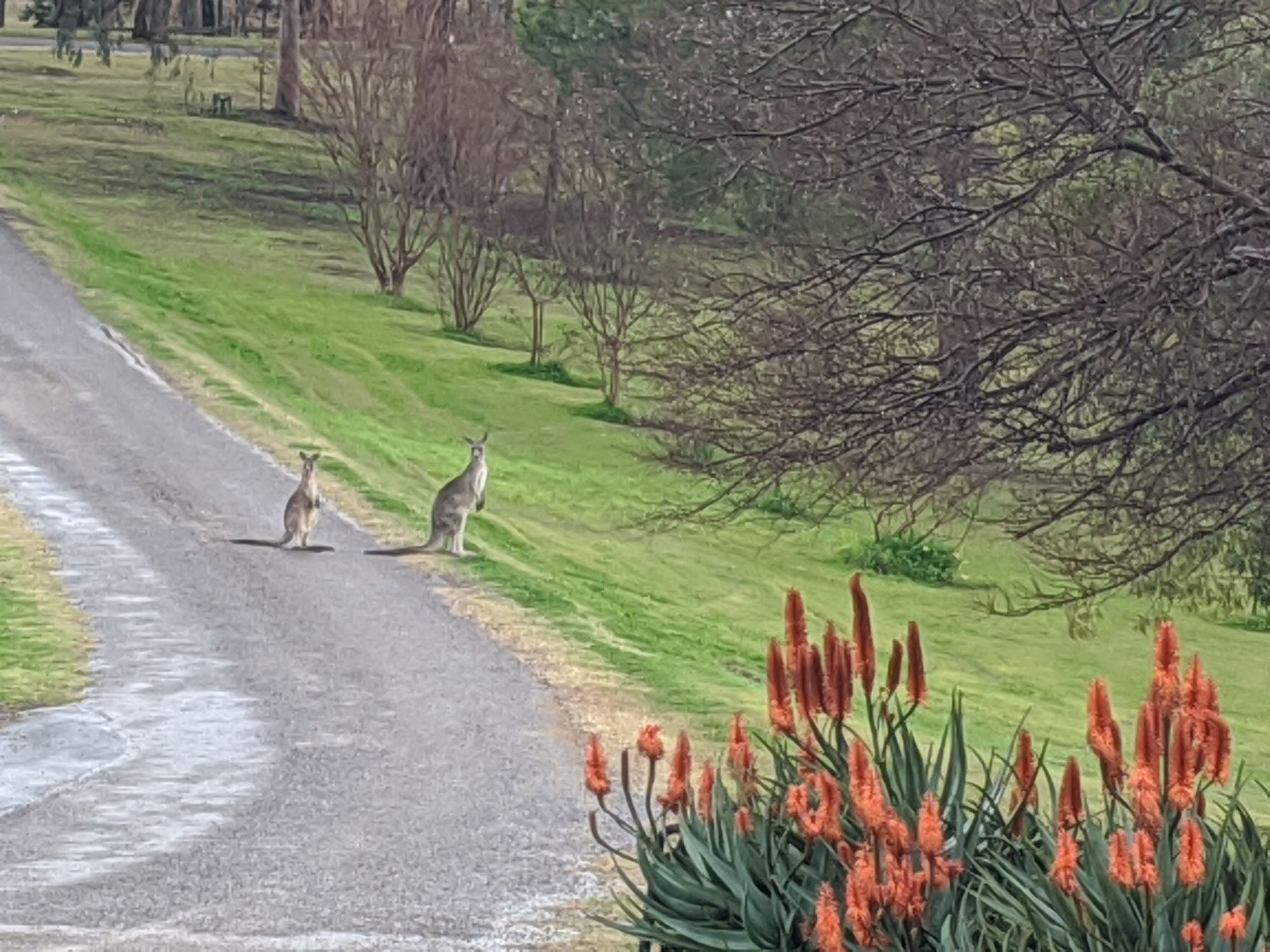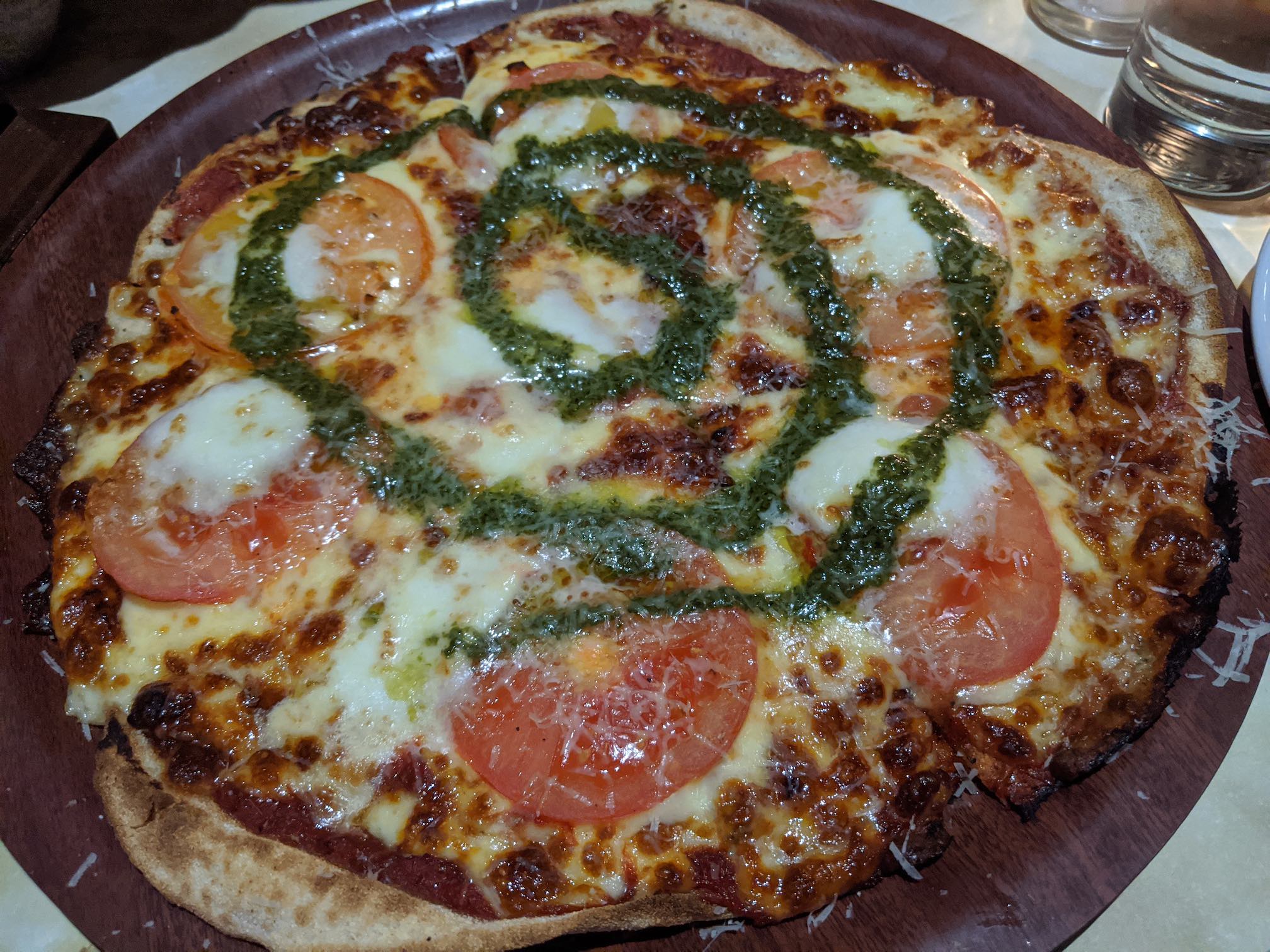 Dinner was a Margherita Pizza, because we didn't want to cycle far in the rain.
Day 8: Pokolbin to Maitland, back to Sydney
There were two options to get to Maitland: via Old Maitland Road, or via Cessnock and Kurri Kurri. We took Old Maitland Rd.
Next time, I'd consider going through Cessnock and Kurri Kurri: those roads might have wider shoulders, despite being busier.Road Conditions
Road Conditions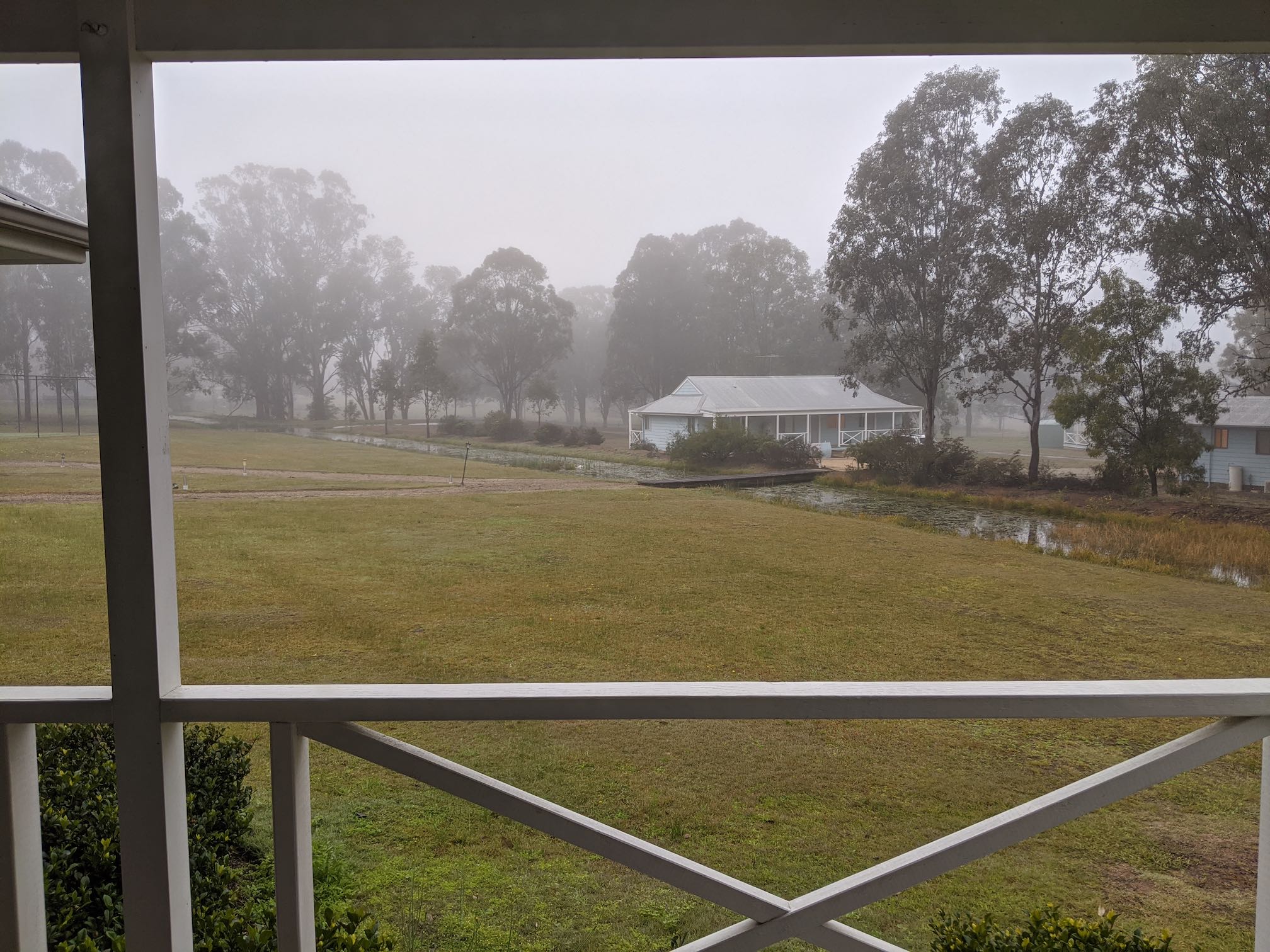 Lomas Ln, Werakata National Park are amazing. Quiet dirt roads and fire trails, a bit rutted (and a bit muddy in the rain), but calm and beautiful in the bush with no cars at all. We had a great time on our hybrid bikes, but you probably wouldn't want to do it on thin road bike tyres.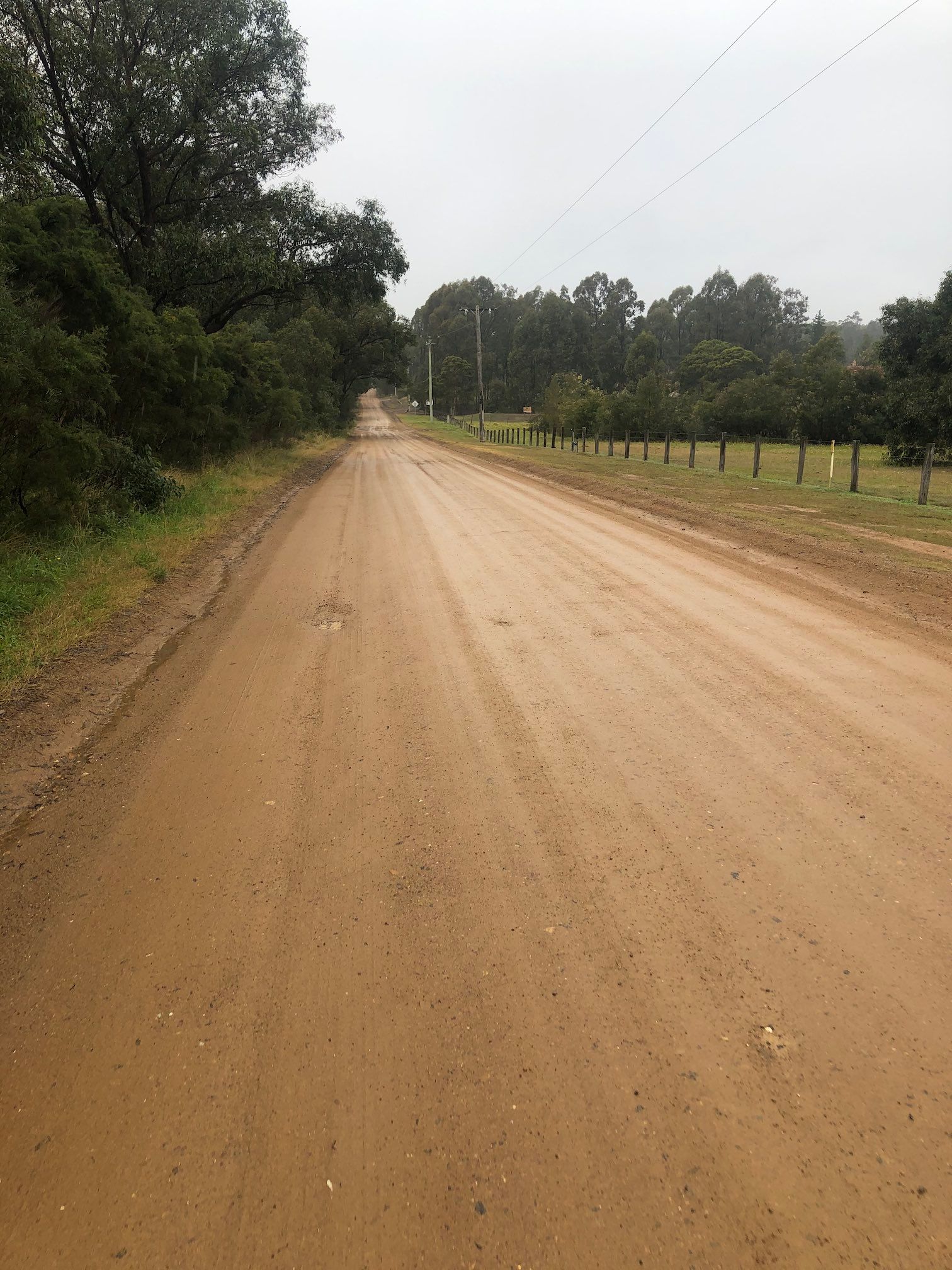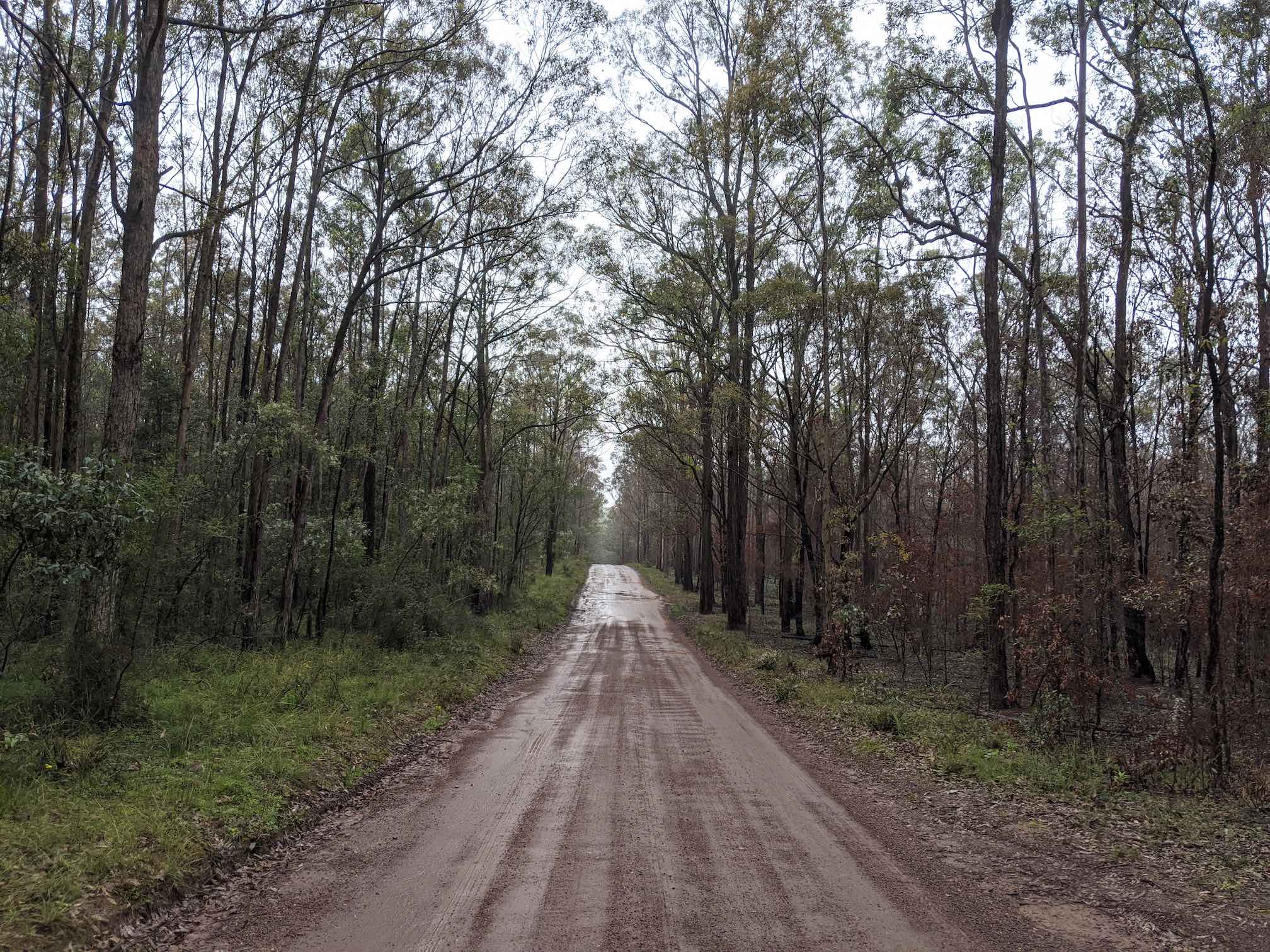 Old Maitland Rd was pretty hairy: quite busy, often with no shoulder, and a bunch of hill climbs needed, and no alternatives avoiding the main traffic.
Food
After leaving Wine Country, we didn't see any restaurants, cafes or shops along Old Maitland Road until Maitland. But don't worry, it's not very far.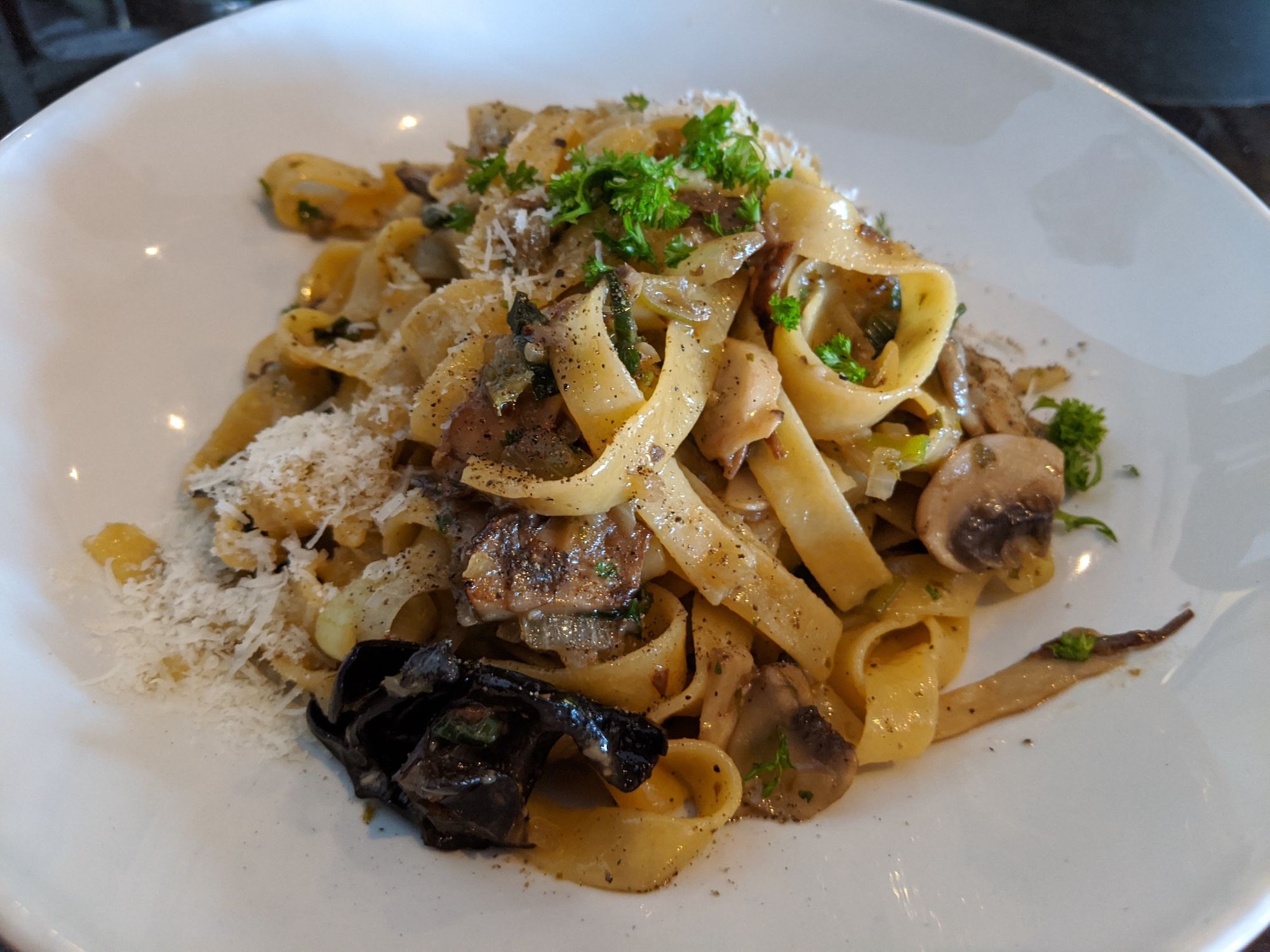 We celebrated completion with a fantastic lunch of fresh-baked baguette, mushroom pasta and dessert at Fratelli Roma Maitland. How wonderful being able to finish a bottle of wine, not having to drive home!
Route-finding
The friendly bike mechanics at Maitland's Bikesmith & Espresso Bar gave us great advice, helping us tweak our planned route. I highly recommend visiting them for breakfast before you set out. They have an extensive set of Hunter cycling routes online!
For route planning, we used:
Ride with GPS app: invaluable. We found great routes by searching for a starting location, and keywords including your end location. e.g. search for routes starting at Maitland, with keywords "Singleton". We found OzWanderer's "Hunter Hundreds" series of 100km routes starting and ending at train stations particularly great.
Google Maps has coarse-grained elevation data for cycling and good offline coverage. Satellite View and Street View tell you how wide shoulders are and whether a road is dirt or sealed.
Strava's Route search had few routes in the Hunter, but Strava's Route Planner feature shows you the elevation gain of routes, and Strava's Global Heat Map let us double-check the routes local cyclists take in practice.
Bikepacking Australia Facebook Group has a few posts come up if you search for Hunter Valley.
Komoot app has good bicycle-specific routing, and 20m topographic maps.
MapMyRide app seems to have gone downhill since UnderArmor acquired them. Was very hard to search for... ride maps. A search for Cessnock Cycling Trails yields only running trail results. Perhaps they've pivoted to running, which sells more shoes?
Get out there!
We had a great time. If you do this trip, if you found this useful, I'd be stoked if you let me know. Enjoy!